It's OVER! The Crochet vs. Knit War is Over!
By Caissa "Cami" McClinton –
19 Comments
Right, so… When I started crocheting in 2008 or so, I began by reading one of the best ever crochet books ever, Debbie Stoller's Stitch N' Bitch Crochet, the Happy Hooker. It continues to be a mainstay of the crochet community and perhaps the most comprehensive "all-in-one" crochet manual out there. But that's besides the point. In the introduction, Stoller brought voice to something weird that was out there in the yarn crafting conversation, as well as the crafting community at large – a serious division between crochet and knitting.

I alluded a little bit to the "mainstream dominance of knitting" in my previous post on local yarn stores. This idea didn't come out of nowhere.
As Stoller explains in the introduction to her book, people who knew her as a knitter expressed shock in finding she was penning a crochet manual.
"'Do you even crochet?' they'd ask, rather accusingly. How could it be that I, a knitter, was qualified to write a book about crocheting? … Didn't I know that knitters and crocheters are like Sharks and Jets-they don't get along, they keep off each other's turf, they break into fights on the playground?"
Whoa. Where did that attitude even COME from? Anyway, you know that didn't stop crocheters from loving and enjoying our craft, just as many of us love and enjoy knitting as well. It's fine to prefer one over the other, but COME ON, PEOPLE, it's a hobby/career/way of life AND it is meant to be enjoyed! Just like you wouldn't put someone down for the clothes they wear or how they like to style their hair, why would you put someone down for a craft they like? It's a CRAFT, people! It's supposed to be fun & relaxing, not full of drama! 😀
Nevertheless, the anti-crochet vibe was out there, and in mid-2007, a group formed on Ravelry called the "Crochet Liberation Front," or CLF. At first, it was supposed to be a joke, but it struck a chord with crafters because, as I've heard CLF founder Laurie Wheeler recount on different podcasts, the group grew literally overnight and she's been running with it ever since. The CLF (along with many brilliant crochet desginers, podcasters, bloggers, and magazine contributers) can be credited with working hard to consistently move crochet forward and showing the world how freaking cool crochet is!
Now crochet is enjoying a well-deserved moment of glory and we can finally say that this silly crochet/knit controversy is over!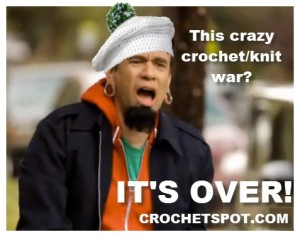 It's over! Now get back to crafting! 😀
So, what about you? Do you remember this crochet/knit controversy? What do you think about it? Is it really over? Do you feel that either crochet or knitting enjoys more glory or is looked down upon in your circles? Please leave your thoughts and ideas in the comments below. Enjoy the conversation! 🙂