Little Crochet Book Giveaway
By Rachel Choi –
244 Comments
Yay! I just got an extra copy of Little Crochet: Modern Designs for Babies and Toddlers. You know what that means…time for another book giveaway! If you haven't heard of or seen the book yet, feel free to read the Little Crochet Book Review here on Crochet Spot.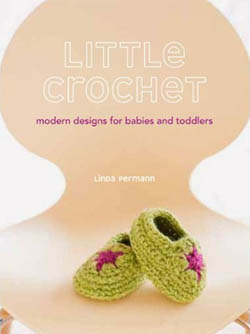 To enter the giveaway, for a free copy of Little Crochet:
Go to the Little Crochet Amazon.com page and click on the "Look Inside This Book" link to look inside the book.
Then in the comments section on the bottom of this post, share with us which project you're most excited about starting! Remember to only comment one time (since there is only one entry per person). Duplicate comments or comments that are not on topic will be deleted.
All participants must be either a Crochet Spot Newsletter subscriber or a Premium Pattern Member at the time the winner is drawn. If you are neither, feel free to sign up for the newsletter or a membership.
Giveaway ends on Wednesday, May 18, 2011 at 11:59PM EST, where a winner will be randomly selected. Be sure to check back to see if you win!
Have fun looking through the book and good luck everyone!!
Giveaway is now closed. The winner will be announced shortly. Thanks for participating everyone!