New Year – New Ideas
By Corinne Munger –
18 Comments
Spending the last several weeks making presents for everyone has led me to want to spend some time making some things for me. This always leads me to research new things. I don't even know how I came upon this item, but I'm so excited that I did. It's called the Sharp Crochet Hook.

I love crocheting around the edges of things. The ends of pillow cases, the bottom of a shirt or even tablecloths are made to look elegant and classy by adding this special touch – but the work to get started keeps me from doing this as often as I'd like. Rachel posted a great tutorial about this here: How to Crochet Edging onto Clothing.
The technique I use is slightly different (older – taught to me by my Mother years ago). You must first learn the blanket stitch to sew your base onto the item you want to edge. You have to make sure these stitches are not only equally distance from each other, but that they are also the right distance apart to accommodate your size stitch. You have to make sure you have enough yarn, string, or whatever your medium, to go around your piece in one continuous go.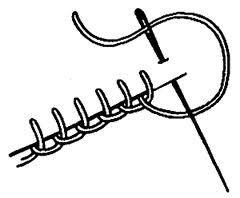 Then it takes time to do the sewing. It's not an easy process, but the end result makes it worth it. So when I came across the Sharp Crochet Hook, I could hardly contain my excitement and ordered it immediately.


This hook is made sort of with a knife blade that surrounds the crochet hook so that you can insert it into any fabric and then proceed to crochet your edge, rather than having to sew it. It will cut the time required for this process to almost nothing.
I can't begin to tell you all the ideas/designs/patterns that are going through my head utilizing this new tool. It should be in my mailbox in the next couple of days. If you're interested in researching this item, you can look at it on their website.
I'm not affiliated with the company selling this in any way. I just wanted to pass on my new found discovery. I've been crocheting for what seems a millenia and never knew this item existed. I can't wait to get started with it. The new project I have in my head will get some of you pretty excited so if you want to follow along with me, you can get your Sharp Crochet Hook here http://www.sharpcrochethook.com/
Now it's got me wondering what else is out there that I have yet to discover!
Do you have a tool you use to crochet with, besides a hook? An aid of some sort? Let me know – I'm always game for something new!