Crocheting Twirls Width-wise
By Candace –
3 Comments
Usually twirls and ruffles are crocheted along their length. This can be an uncertain process, especially if you're making twirls by decreasing each row, but if you want to have a little more control of the final product, it can help to make them width-wise by varying stitch heights.
As an example, you can progress from a single crochet up to a treble crochet across the row, then turn and go from a tr to a sc, repeating the process until you have the length you want without the guesswork.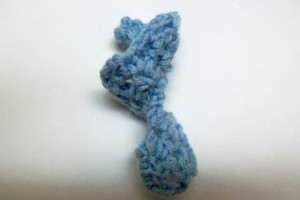 The above twirl is 3 stitches wide with a 2-row repeat
Row 1: sc, dc, tr
Row 2: tr, dc, sc
This technique is also good for adding ruffles to a project without worrying about working into a finished edge. If you want to make a ruffle on the edge of a project that's worked flat such as a cardigan or a scarf, you can add a few stitches to your base row and use taller stitches to create the ruffled edge.