Another Take on Crocheted Twirls
By Candace –
6 Comments
Have you ever worked on a spiral scarf and suddenly realized that your 50 stitches has bloomed to 400 and felt like the row would never end? It can be tiring to plod along the row, especially if the scarf has a plain stitch. If you work backwards and start with a long chain whose stitches disappear by half each row, it can feel like you're going faster even though in the end, you have the same number of stitches.

Decreasing creates twirls just like increasing does. The shorter rows are the center, and the longer rows make up the outside of the twirl. In this picture, you can see the the fabric starting to curl after having a few decreases worked into it.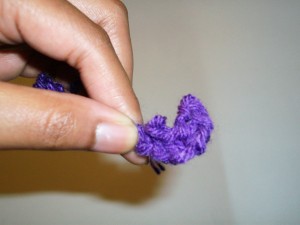 Tips for twirls:
Work with multiples of different numbers and experiment with the way the twirls pull in. Try a multiple of three and dc3tog across the row or use a multiple of four and dc4tog across the row.
Keep in mind the number of stitches you plan to have in the last row and take the curl into account for the length of your twirls. A longer starting chain doesn't necessarily mean a longer project when it's finished.
When deciding which method to use, take into account what would bother you more: having to make a long chain to start or having to multiply your stitches in every row.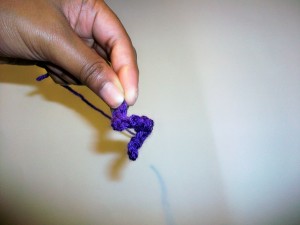 Having fun experimenting! If you need any help with your twirls, feel free to leave a comment below.