Sustainable Living: How to Recycle Your Yarn
By Tameko Barnette –
7 Comments
Now, I know this seems a little redundant, but it is not because there are so many ways to recycle yarn. There are many ways to get yarn in order to recycle it. I have seen so many people talking online about a variety of ways they recycle yarns. We're not just talking about the yarn you already have at home like I talked about in previous posts, but other yarn resources.

Thrift Store Sweaters – You can go to any thrift store and purchase some knitted or crocheted sweaters for a bargain price, unravel it, and use the yarn to create something else with it. It sounds strange at first. Why would I want to bypass Joann's Fabrics or Michael's and go to a thrift store to buy an old sweater? Ecologically and financially, it makes perfect sense. Thrift store prices, including the Goodwill Stores, are a real good bargain. You'll end up paying less for even more yarn depending on the size of the sweater you buy. Sounds weird, right? Never know until you give it a try.
Plastic Shopping Bags for Yarn – While thinking about recycling itself as a healthy lifestyle practice, even when it comes to crochet, I couldn't help but wonder if there are places you can take yarn to be recycled. Then I came across this insane piece online about recycling plastic shopping bags to use as yarn for projects. Really?
According to an article on Instructables.com, it can be done in six (6) easy steps. Now, I don't know if I would give this a try or not, but I certainly find it interesting. And it is helpful to the environment! So, why not? I will give this a try soon and post pictures up here on Crochet Spot of what I come up with. But, in the meantime, I don't know about you, I'll never look at my plastic shopping bags the same again.
Resale the Yarn – Recently, I bought some colorful skeins of yarn from a store called Ollie's and the skeins were not wrapped in decorative company labeling, like Soft heart. Oh no! These were skeins (still nice and neat) in Ziploc bags with a cheap price tag on them. There was an entire shopping cart full of them as soon as I walked into the store a few weeks ago. I had to start laughing, but I figured that's a great idea even for someone whose having a yard sale or if you grab a table at a local community market. If you find that you have skeins of yarns you're not going to use like you planned on, just re-package and re-sale. This is a great way to recycle.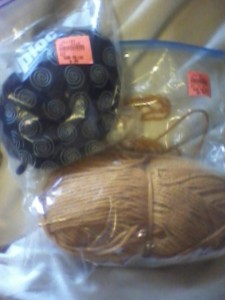 So, what do you think about recycling yarn? What creative ways have you recycled your yarn? Please post your comments here.