To Buy or Not to Buy
By Veronica Smith –
27 Comments
I am so very proud of myself. I am going to make a toy Lion for my nephew's upcoming 2nd birthday and I am using yarn I already have! Sounds logical doesn't it? I have so much yarn, however nothing that quite qualified for a lion. I then realized that he is going to be 2 years old and really won't know if the color is a bit off. So, out of the stash it comes. I do love buying yarn though and I am wondering how much the joy of purchasing some more yarn was overshadowing my logic on color choices.

Having over come the lion hurdle and resisting the urge to purchase more yarn I then fell off the wagon a couple of days later. There has been this yarn at the local Lincraft store (in Australia). It is the oddest stuff, it is Made in Turkey, 31% lurex and 69% what I can only assume to be polyester, English isn't exactly predominant on the label. It is a mix match of colors that I don't suppose really go together. It is shiny and I usually don't like shiny yarn. To top it all off it really isn't that soft. I couldn't make anything that touched the skin so scarves or a sweatshirt/jumper/cardigan is out of the question. So all in all it is the opposite of anything that I have ever liked before on 3 different levels. Unfortunately, it has had me mesmerized for a couple of years now and I pick one up every time I am there trying to justify purchasing one. This yarn has been $4.99 a ball for a couple of years now and given that I don't know what to do with it I have never bought any.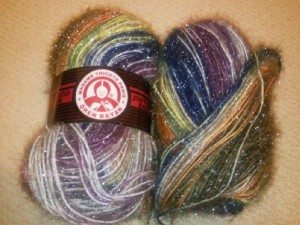 I was at the store last week and it was down to $1.99 a ball. You guessed, I purchased some, well 2 of them. Then yesterday I went back and got 6 more. I have no idea why, I am possessed by this stuff. Daughter number 2 has suggested a vest because I won't come in contact with any skin. A bag is a possibility but it doesn't seem to be very sturdy. I hopefully will think of something and it won't be really scary.
I am so very weak willed. At least my lion will be a little triumph in my war against my crazy yarn purchases.
Have you ever done something like this? Do you buy yarn without a project in mind, just because it draws you in?