Top 10 Home Decor Crochet Patterns for Summer
By Rachel Choi –
Be the first to comment
As we creep into summer, let's start adding summery crochet projects to the hook! In this post I rounded up my favorite 10 home decor crochet patterns for summer. Patterns include coasters, pillow covers, cleaning cloths, and everything in between. Grab your crochet hook and don't stop crocheting just because it's summer!
10. Beach Life Coaster Set – This coaster set is comprised of a sea star, sea urchin, scallop, and clam. Each one is a quick project that I guarantee will be a lot of fun! Not only can you use these patterns as coasters, you can use them as appliques in any of your beach themed projects. They would look great sewn to a beach bag!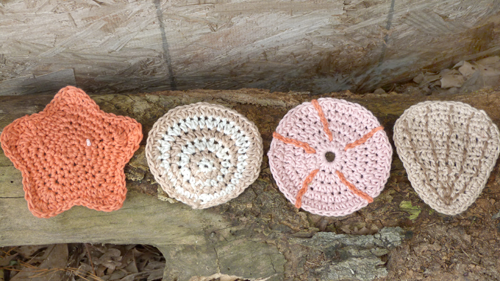 9. Single Crochet Sampler Placemat – Almost everyone who starts off crocheting learns the basic single crochet stitch. But did you know that it can be used in many different ways to create brand new stitches? Using only single crochet and chain stitches, this placemat pattern contains 4 different stitch patterns for you to try. The placemat is crocheted all in one piece, changing stitch patterns as you go. When you're done crocheting your placemat, it'll be full of different textures and colors. Whether you're a crochet newbie or a veteran, you'll have 4 stitch patterns to add to your crochet arsenal.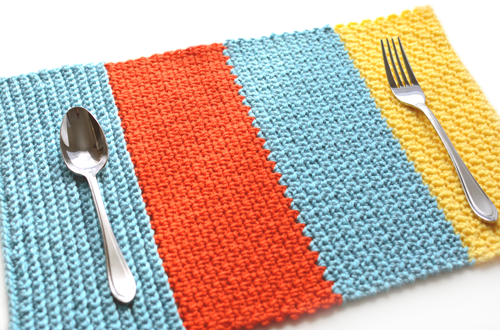 8. Chevron Pillow Cover – Add a pop of color to your pillows with a classic chevron pattern. Following the instructions within this pattern, you can create a pillow cover for any sized square or rectangle pillow. Unlike other chevron patterns, this pattern is solid and is crocheted with sharp peaks and valleys to ensure a bold stitch. The pillow cover can either be sewn to be permanently on the pillow or removable so that you can toss it in the wash when needed.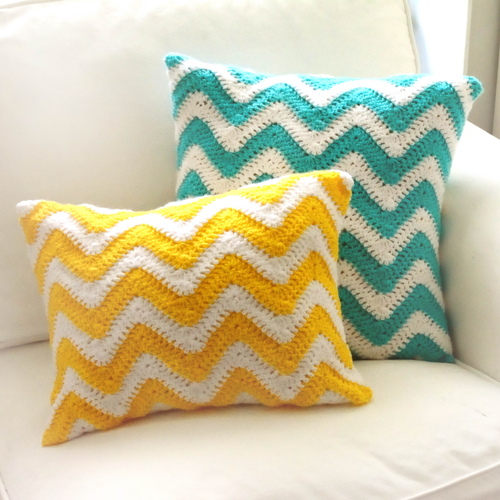 7. Quick Storage Basket – Here is a quick basket pattern to solve your storage needs! The basket is crocheted in the round from the bottom up. You can make it as big or as small as you like using the instructions within the pattern to adjust its size. Make it big enough to use as a laundry basket or small enough to fit perfectly on a cube shelf. Being able to adjust the width and length of the basket makes the possibilities endless! The sample basket in the photo uses a variegated yarn to create a quick colorful basket, but feel free to use a solid color or multiple colors if desired.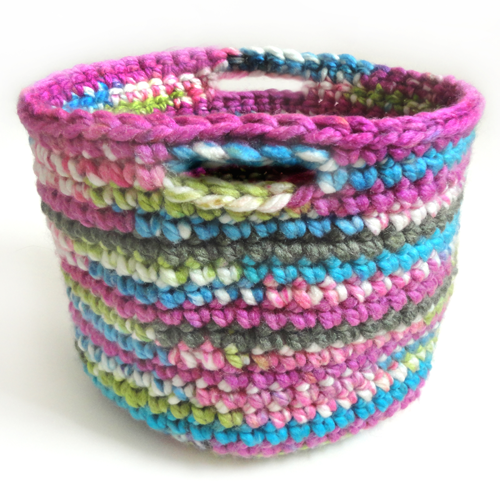 6. Pot of Daisy Scrubbies – This pattern set includes daisy shaped scrubbies and leaf inspired cleaning cloths that can be displayed in a cute flower pot to resemble a pot of daisies. The daisy scrubbies are crocheted with ordinary yarn and nylon netting held together to create a rough, textured center that's great for scrubbing dishes or even exfoliating your face and body. No sewing is required! The cloths can be used to clean dishes and counter tops, or used as a washcloth or face cloth. Crochet with 100% cotton yarn for extra absorbency. Pattern includes a tutorial for preparing and crocheting with nylon netting.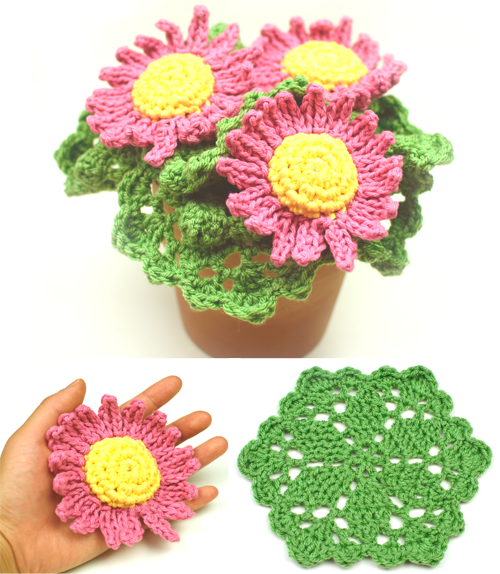 5. Lacy Chevron Table Runner – This table runner uses one of my favorite stitch patterns. It's made with a chevron stitch that you can work all in one color, or in multiple colors if you desire. The rows alternate between solid and lace to give you a modern yet still lacy look. The pattern includes instructions for adjusting the size as you see fit. Make it as wide and as long as you like in order to fit your table. The table runner in the sample photo uses an ordinary medium/worsted weight yarn, but it would also look great using thinner yarns to give it a more delicate feel.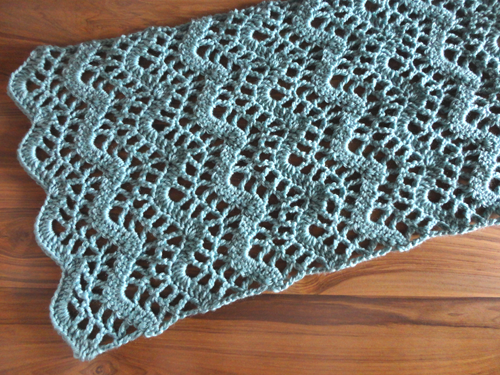 4. Square Scrubbie Set – These multipurpose scrubbies are great to have on hand. Use them as a dishcloth to scrub your dishes, clean your counter tops, stove, and all areas of your house. You can also use them as washcloths for kids or adults while bathing. Toss them in your washing machine when they get too dirty so that you can reuse them again and again. The small squares fit great in the palm of your hand, but if you want a larger or smaller size the scrubbies can easily be adjusting by following the instructions within the pattern. Each scrubbie has a loop at its corner so that it can easily be hung to dry.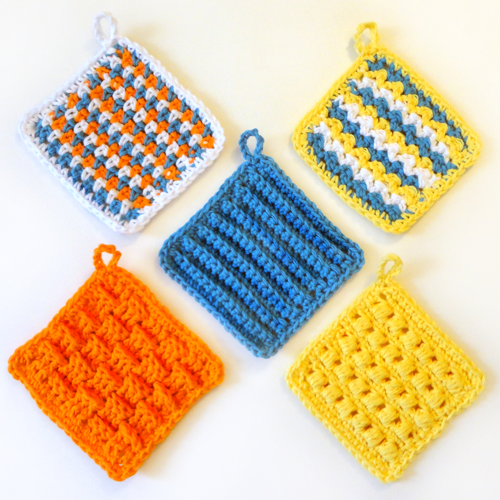 3. 3 Plant Hangers – Crochet these 3 plant hangers to use them inside your house or outside when the weather's nice. Each hanger has a fun and different stitch pattern, but they all have a light netted design so that it doesn't interfere with your pot's drainage on the bottom. The hangers can be adjusted to fit any sized pot using the instructions within the pattern. Be sure to have your pot handy when you're crocheting to ensure it'll fit properly.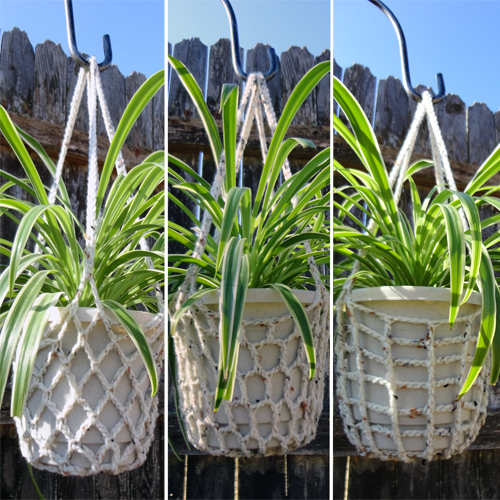 2. Flip Flop Coasters – Crochet these cute and fun flip flop coasters to use with martini, wine, champagne, or any other footed glasses. The bottom of the glass fits snugly into the flip flop straps, attaching the coaster to the bottom of the glass. These coasters can also be used as glass markers if you crochet a set in a variety of colors. Feel free to customize the flip flops with small appliques or embroidery. Crochet a set of these coasters for a party, or just to have a set around the house. The flip flop coasters are great for spring and summer time fun!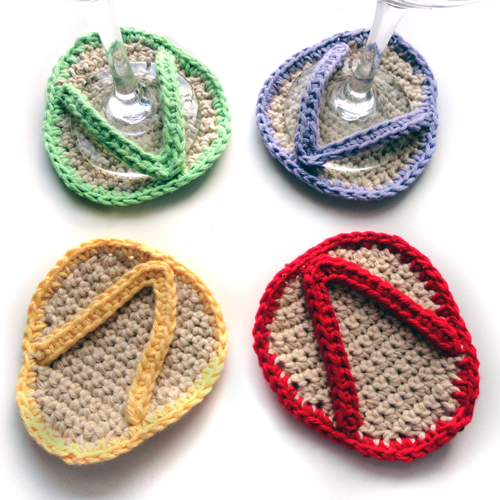 1. Mason Jar Hangers – If you're obsessed with decorating with mason jars, here is another idea! Crochet these cozies to hang your jars. This set includes 5 different stitch patterns to use. Crochet them all or select a few that you truly love. Either way, the hangers can fit on any size mason jar. The instructions include steps for adjusting and customizing the size to fit your jars.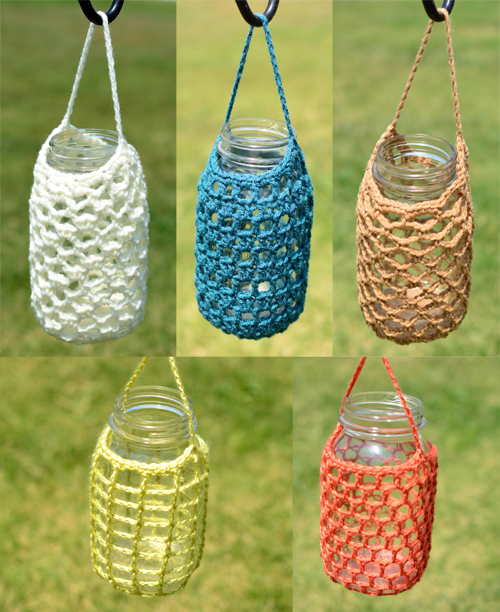 Check out more home decor crochet patterns in the Kitchen and Home Section!