Top 5 Crochet Magazines
By Tameko Barnette –
7 Comments
There are plenty of crochet books available on the market and at the libraries. We can find numerous patterns, helpful tips, and fun ideas we've never thought of before in them. Quite often though, we are looking to grab something quick and helpful when it comes to our crochet needs. While the Internet is a quick and easy alternative to the crocheter, there's nothing like a good old fashion magazine to get at the newsstand or store.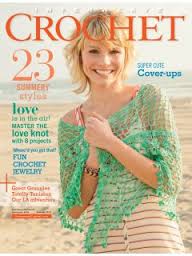 Out of the list of 5 magazines, I have read two of them. They are not just filled with numerous patterns and pretty pictures of yarn, but these magazines also contain thought-provoking and at times, community-based articles inspired by the craft of crochet. For instance, there was one crochet magazine, I believe it was a Crochet! magazine issue I read a couple of years ago that talked about a community-based effort among neighbors who were teaching the youth how to crochet in their community.
So, I highly recommend reading any crochet magazine. In addition, you should keep in mind that finding crochet articles and patterns in crochet magazines ONLY is the tip of the iceberg. There are many arts and crafts magazine that include articles and patterns for those who love crochet. Be sure to check out the the entire arts and crafts section of the magazine shelves next time you're at a bookstore or anywhere magazines are sold. Thumb through the articles and see what you can find. You may be pleasantly surprised.


#1 – Crochet! Magazine
#2 – Interweave Crochet Magazine
#3 – Crochet Today Magazine
#4 – Quick and Easy Crochet Mgazine
#5 – Crochet World Magazine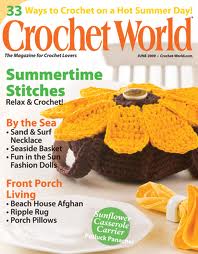 Each of the above magazines are loaded with crochet news, the latest fashions in patterns, the current yarns and threads being used, easy-to-follow instructions, and plenty of gift ideas for children and adults.
It's just a great idea to have a few issues or even a subscription to a crochet magazine of some kind around the house to make sure we have a quick and easy resource and reference guide handy.
Do you have a subscription to or have read an interesting crochet magazine? Please share here, if it's not on our list above. We look forward to hearing from you.