Join the Crochet Along! Win a Pattern!
By Caissa "Cami" McClinton –
35 Comments
Exciting! My last ramble, Let's Crochet Along, elicited a big response. The question was, "Do you want a quick & easy crochet along?" The answer was a resounding, "Yes!" Hooray!!
I am happy to administrate this fun and fabulous CAL, and here are all of the details!
How will it work?
The CAL will have a theme – Quick and Easy Holiday Gifts. That way, it can help us reach our holiday crafting goals.
Did you know that on Sept. 1, there will only be 114 crafting days until Christmas, and only 87 crafting days until the first night of Haunukkah?
LET'S MOTIVATE, PEOPLE! 😀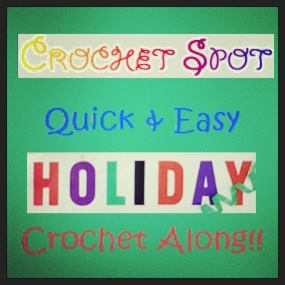 Each participant will crochet at least one item, and post a link to a picture in the comments of a future Crochet Spot post (more below). Finally, a winner will be randomly chosen from all project photos submitted. You may enter as many times as you like, but even if you only crochet (and post a photo of) just one thing, you may still win!
What will we make?
That's where you get to have lots of fun! I am going to curate a list of several patterns that are perfect Quick and Easy Holiday Gifts from the many patterns to be found here at Crochet Spot! You simply choose a pattern (or patterns) from the list and get crocheting! Crochet only one item, or as many as you like. The choice is yours!
What will we win?
You mean aside from the sense of pride in knowing that you've finished a holiday project or two (or ten)? You mean in addition to enjoying the sense of community we're creating here? Well, I've partnered with Rachel, and she's happy to award one lucky winner a free Crochet Spot Pattern download! Woo hoo hoo! Rachel will also create a photo round-up of the entries, so your work may be featured right here on Crochet Spot! 😀
How will we win?
Well, everyone who completes a project and links to a picture of it here in the comments will have an entry in a drawing for the pattern giveaway! You may enter as many times as you like, but you must make each project a separate comment entry.
What's the Timeline?
Starting: The Crochet Along will start when the list of patterns is posted in the next ramble! The post will go up in early September. After you see it, choose your pattern and get crocheting! Bookmark that post, because that is going to be the one where you comment in order to enter for the prize!
UPDATE: You can find the list of crochet patterns here: The Quick and Easy Holiday Crochet Along!
Ending: In order to get the prizes out on time, we're going to stop this crochet along on Nov. 26, which is the day before the first night of Haunukkah. The entries will be tallied, and the prize will be awarded on December 1.
That gives us more than eight weeks of good crafting time. I think we can get a lot accomplished in that time, don't you? I am so excited about the Quick and Easy Holiday Gift Crochet Along!!
Which favorite Crochet Spot Patterns would you like to see in the list of CAL patterns? Please leave a comment below! Get pumped!
UPDATE: Get crocheting! You can find the list of crochet patterns here: The Quick and Easy Holiday Crochet Along!