The Quick and Easy Holiday Crochet Along!
By Caissa "Cami" McClinton –
46 Comments
Woohoo! Let's get this party started, people!
It is finally time for the Crochet Spot Quick & Easy Holiday Crochet Along!

Here's what to do:
1) Choose at least one pattern from the quick gift patterns listed.
2) Crochet it! Use ANY yarn you like! No specific brand of yarn is required!
3) Take a picture of your finished object and post it on the internet. It could be anywhere- facebook, Ravelry, twitter, flickr, photobucket, instagram, pinterest, your own blog…
Optional hashtags: #crochetspot #crochet #crochetspotcal #holidays
Feel free to link back to this post! Linking back is not required, but it may get more people interested in the CAL!
4) Copy and paste the link to your picture in the comments of this thread, OR email a photo to r[email protected] and Rachel will upload your photo for you.
Without further ado, here are the patterns!
Rachel's Free Cardholder Pattern
is a perfect way to start. It's prime for giving gift cards, but also can be used to hold credit cards and stow cash on the go! It's a clever and fun crochet project.
Rachel's Basic Baby Cocoon pattern is perfect for keeping sweethearts warm and safe. Crochet in bold and bright colors, rainbow stripes, or soft pastels.
Rachel's Ruffle Scarf is the perfect accessory when the months get a little colder. For the warm climate people, we can make them in light and airy yarns with bigger hooks. It's a free pattern.
I could not resist adding in this Crochet Spot Premium pattern, 5 Christmas Gift Bags! It's so cute and has so many possibilities. I would use this gift bags to give small things like jewelry, or even just stuff them with candy! 🙂 So cute!
This may be, perhaps, the quickest and easiest pattern of the bunch, Rachel's Absolutely Easy Neckwarmer! Crocheted in size 6 super bulky yarn, and using only 50 yards, you can even get two out of most skeins of super bulky yarn! 🙂 It's perfect for warm climates. You can use a luxurious yarn like Malabrigo Rasta to wow your friends who receive this gift!
This comfy Rectangular Vest pattern comes in 9 sizes! Once you buy the pattern, make one for everyone! I see it as a perfect garment to throw over jeans, or if made in a fine yarn, as a pretty addition to a work outfit.
Rachel's Free Slouchy Beanie Pattern is a Crochet Spot classic! Perfect for men or women, this easy slouchy beanie is still in style! Mix up colors to suit your gift recipient!
I have made Rachel's 5 Simple Soap Savers so many times! When paired with some homemade soap, they are the perfect personalized gift. The pattern is for sale in the Crochet Spot Store.
Every device needs a cozy! Experiment with colors, sizes, and different closures to make this cell phone cozy as personalized as the phone it covers! This quick project can also make use of precious scrap yarn. I can't wait to see what you all come up with! 🙂 Oh yeah, it's a free pattern, too. 🙂
The beauty of this garment is that it's two garments in one. Everyone knows versatility is key in our wardrobes. That's why Rachel's Lover's Knot Covertible Shrug is a perfect gift. Whether your friend wants to wear it as a scarf, shrug, or switch between the two, she's covered. Available in the Crochet Spot Store.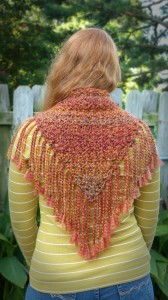 By popular demand, Amy's Nearly Autumn Shawl!
AND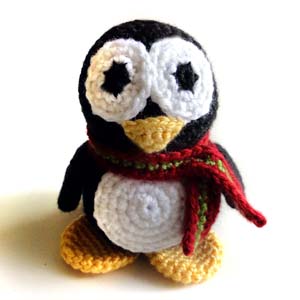 Rachel's cutie pie: Patrick the Penguin!
You may win
–
a Crochet Spot pattern
! People who are not already Premium Pattern Members will win a
Crochet Spot pattern download
.
People who are already Premium Pattern Members will will a free month of membership! WOW!
Crochet as many of these as you like! Enter as many times as you like! (However, to be fair, each photo entry needs to be of a separate project. – i.e. each slouchy beanie will count as ONE entry. Don't just post 10 pictures of the same exact slouchy beanie!! haha 😛 Instead, post one picture of each of the ten slouchy beanies you make!)
The contest ends: November 26. The prize will be awarded by December 1.
Everybody, have fun! The point is to get us motivated for holiday crafting and to share a fun and stress-free crochet along experience. Please also use this thread to post questions about the patterns. It's fun more if we can help each other!!
For more info, visit the previous post about this event, or even the post where it all began.