How To Crochet: Blanket Stitch
By Robin Beers –
225 Comments
| | |
| --- | --- |
| This easy stitch is perfect for an afghan or blanket. It is just sets of 3 stitches, one single crochet and two doubles. Once you get into the hang of it, you can do it in your sleep! Use it for a baby blanket in a pretty pink or blue or for a regular afghan with bright colors! You can change colors after a few rows for a multicolored effect. | |
The photo above is a baby blanket I am working on for charity. I am using a J-hook for this with worsted yarn. Decide how wide you want your blanket to be and chain the proper number in multiples of 3. I chained 108 for this blanket and it is about 31 inches wide. For another blanket pattern using a similar stitch, click here. Oh, and by the way, feel free to try this stitch on a scarf if you want! Experiment!

Note: If you are left handed, just put your mouse over the photo for a left-handed view.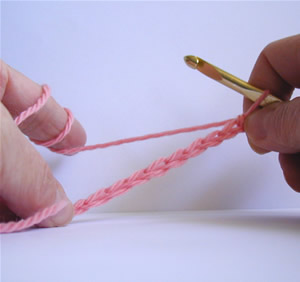 Start with a foundation row of a multiple of 3 chains.
I chained 12 here.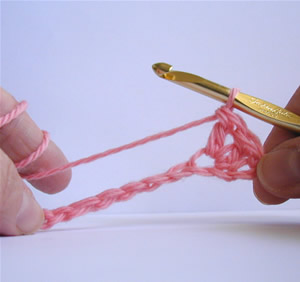 Row 1: Make 2 double crochets in the 3rd chain from the hook.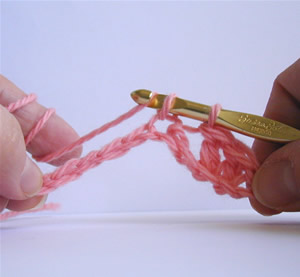 *Skip 2 ch. Make 1 sc in next ch.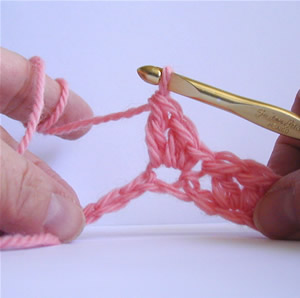 Make 2 double crochet in the same ch.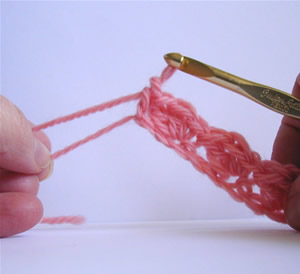 Repeat from * to the end of row 1 ending with 1 sc in the last ch.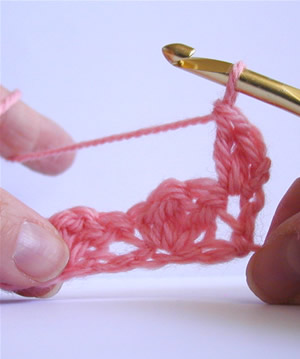 Row 2: Chain 2, turn, make 2 dc in first sc.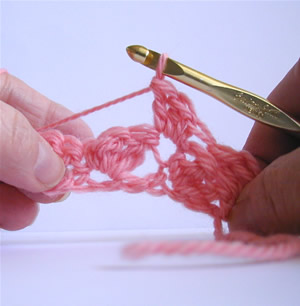 **Skip the next 2 dc, Make sc and 2 dc in next sc.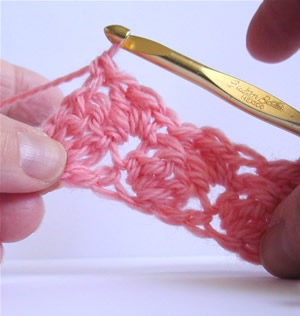 Repeat from ** across ending with 1 sc in the top of the ch-2.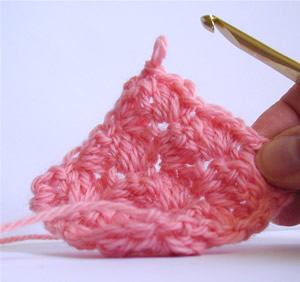 Repeat Row 2 until desired length is made.
If you have any questions, don't hesitate to ask.