Beach Crochet Pattern Round-Up for Summer!
By Caissa "Cami" McClinton –
Be the first to comment
Hello hello! Are you getting excited for the summer? Woohoo! Warmer weather has found its way to the Northern Hemisphere and soon it will be beach season! Whether you're near a lake, ocean, or pool you can get into the fun by crocheting up some of this beachy goodness.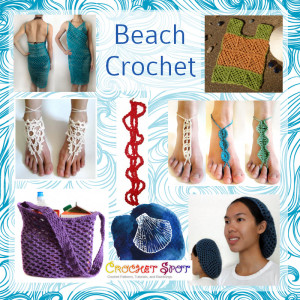 I used to feel weird about going to the beach because of my weight but then I noticed that everyone loves the beach and everyone has different bodies! The beach is a part of nature and it is there for us to enjoy, so now I just go ahead and I don't worry about any of that anymore. That doesn't mean I'm out there running around in a swimsuit alone though! The beach is an opportunity to accessorize, and a good cover up is a must!
Rachel has a really nice coverup available in 9 (yes) 9 sizes. It's pretty and provides good coverage. Very crochet-worthy.
Don't you just love Amy's patterns? I'm a total Amy fan and she has designed a Sprightly Swimsuit Coverup available in a multitude of sizes. Since this one is worked in motifs it gives you lots of options for color choices!
Whether you're covered up in a maxi dress or wearing a one-piece into the water, you can dress up your look with either of Rachel's barefoot sandal patterns. Try the Barefoot Sandal Set or the Lacy Triangle Barefoot Sandals.
If your hair gets out of control at the end of your beach day, you can put on this pretty Netted Hair Snood and still look presentable at dinner out on the way home!
Pack all the things into Rachel's sturdy Mesh Market Bag. It's not just for the market!
Finally, to remember your day or get excited for your next visit, Candace's Chain Wave Bracelet free pattern mimics the gentle waves of the water. So calming.
So what about you, my friends? How do you like the beach-worthy patterns I've shared? What other types of beach crochet would you like to see here on Crochet Spot? Will you be crocheting any of these for the summer? Please leave your thoughts, ideas and questions in the comment section below.