Crochet for Winter Hikes
By Caissa "Cami" McClinton –
Be the first to comment
Brrr. Do you feel the frost in the air? I don't. (That's because Florida is not a very frosty state.) However, I know that a great deal of Crochet Spotters live in climates where the temperatures are dropping and the seasons are changing. As a native New Englander, I know that this time of year is a good one for weekend hikes. It's your last chance to get in some fresh mountain air before the snow settles in. However, the proper hiking gear is essential and crochet can be a part of it! Today I share 8 patterns that can keep you prepared on your winter hikes.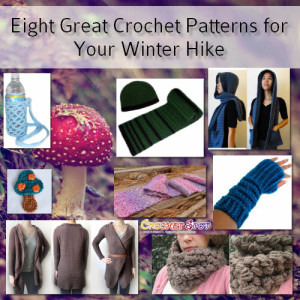 Perfect for the chilly winter days, make
Rachel's Everyday Cardigan
one of your layers on the hike. Since it can be held closed with a belt or left open, it's great for when you need extra warmth or if you want to let off a little steam.
My neck is always cold, so I love Amy's Classic Homespun Scarf. Crocheted in a favorite chunky yarn, it works up quickly and keeps you warm! If your hike is tomorrow and you need neckwear now, try Erin's Chunky Cluster Cowl. It's big & quick (and also totally on trend). I think Erin was ahead of her time with this pattern – now we have yarns on the market manufactured specifically for this type of oversized, chunky accessory.
Whether crocheted as a set or individually, the Men's Striped Hat and Scarf works for anyone, really. With its classic design, it is the perfect set to bundle up in while enjoying nature. On even cooler days, Rachel's Hooded Scarf Version 2 could be just the thing to warm your head, neck, and hands!
Even if you're already wearing gloves, Candace's Slouchable Fingerless Gloves can be a great layering piece on colder days. Put on the gloves first, then the fingerless gloves, and finally your coat. You'll be a lot warmer!
You'll need to stay hydrated during your walk, so Rachel's Crochet Water Bottle Holder could come in handy.
Finally, as a bonus, adding Amy's cute Woodland Mushroom Applique to any of these projects will make you feel like you're one with your surroundings.
So what about you, my friends? Are you planning a little winter exercise? Do any of these patterns inspire you to hike? Please leave your thoughts, ideas and questions in the comment section below.