Crochet Pattern: Everyday Cardigan Sweater (9 Sizes)
By Rachel Choi –
Be the first to comment
This sweater is great for everyday wear. You can dress it up or dress it down. Wear it with your favorite belt or let it drape open for a relaxed look. It would look great with a pair of leggings or jeans. The sweater is crocheted from the top down with no sewing required. It can be made in 9 different sizes from X-Small to 5X. Try it on as you go to ensure the proper fit. The sweater is intended to have a tight fit, but if a looser fit is desired simply crochet the next size up. As an adjustable sweater, you can make the sleeves as long or short as you like to create short sleeves or long sleeves. The cardigan is intended to be tunic length, but can be adjusted to be any length that you desire.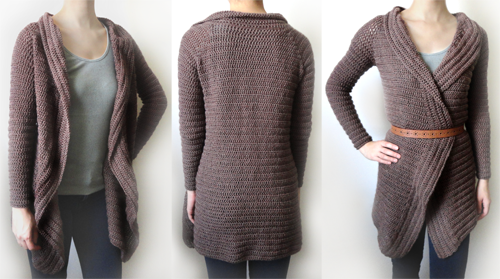 Click here to see full pattern details!
All purchases help to support Crochet Spot and are greatly appreciated! Please log in or create a new account at the Crochet Spot Store to purchase this pattern. Premium Pattern Members may log into the store and download the pattern for free.