Crochet Pattern: 3 Mini Storage Containers
By Rachel Choi –
Be the first to comment
Need some organization for your desk, bathroom, or kitchen? This set includes 3 cylindrical containers to crochet that have an unlimited number of uses. The small container can hold small items such as coins, paper clips, or q-tips. The large container is great for taller items such as pencils, paint or makeup brushes, and utensils. The medium container is perfect for everything else in between from crayons to cotton balls, or even a potted plant! Each container is crocheted from the bottom up, seamlessly in the round. The containers are soft yet still sturdy, and can be stiffened or starched if a firmer container is desired.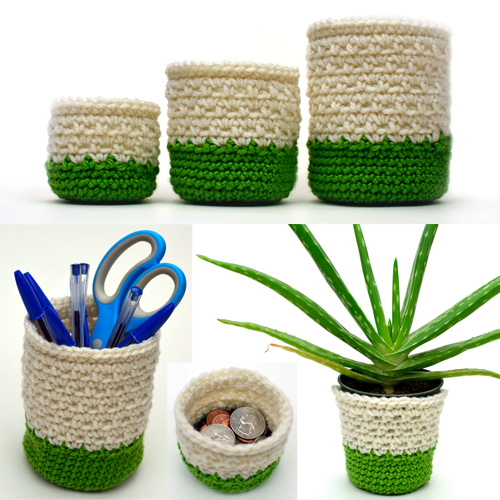 Click here to see full pattern details!
All purchases help to support Crochet Spot and are greatly appreciated! Please log in or create a new account at the Crochet Spot Store to purchase this pattern. Premium Pattern Members may log into the store and download the pattern for free.