Yarn Containers
By Rachel Choi –
23 Comments
Keeping your yarn clean and traveling with it can be a hassle without a proper container or bag to put your work in. There are some clever containers that you can make at home by reusing / recycling materials.
The basic idea is to use a container and poke a hole at the top so that your strand of yarn can go through it. You can use any container you like, such as an old storage container, food container, or small canister. If your container is big enough you can also store your hooks and pattern sheet in it too!
Here are some examples of yarn containers:
These containers I found at instructables.com. They have a tutorial there for making these yarn containers as well. Looks like they just used good old food containers.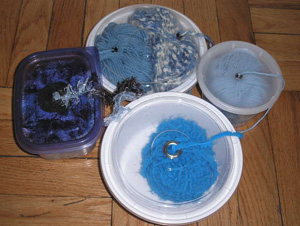 This container I found at Drenka's Blog. She used an old plastic container that used to hold spices and even decided to decorate the container with a ribbon.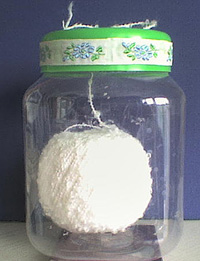 There are also yarn containers that you can buy in the store if you're not into doing it yourself. They are nicely designed in different sizes and come with a handy handle. (Err..that should be a crochet hook in the picture)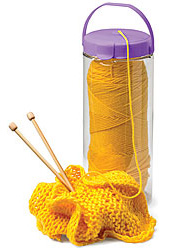 Do you have a yarn container idea you would like to share?