Crochet Pattern: Basketweave Rug
By Rachel Choi –
Be the first to comment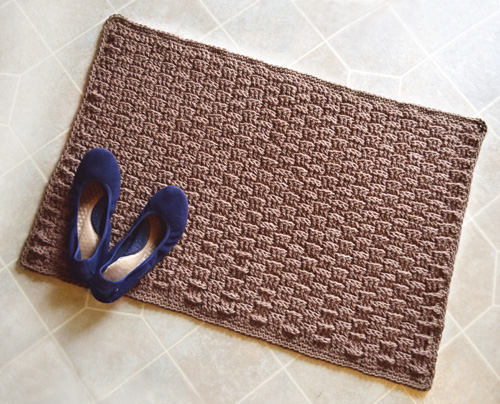 Crochet a rug with this simple pattern that mimics the look of a woven basket. Whether you need a rug for your front door, kitchen, or bathroom, the length and width can be customized to be any size that you desire to ensure a perfect fit. The pattern uses medium/worsted weight yarn which is readily available in many colors. Choose a yarn that is sturdy and machine washable for easy cleaning, such as acrylic or cotton. An unconventionally large crochet hook is used to create a fluffy, thick, textured rug. The large hook also makes the project quicker to crochet. Since the pattern is easily adjustable to be any size you desire, you can also change the yarn and hook size to create larger or smaller stitches.
Click here to see full pattern details!
All purchases help to support Crochet Spot and are greatly appreciated! Please log in or create a new account at the Crochet Spot Store to purchase this pattern. Premium Pattern Members may log into the store and download the pattern for free.