Crochet Pattern: Lover's Knot Wrap
By Rachel Choi –
5 Comments
There's a new pattern in the Crochet Spot Store! This pattern is for a lacy and light weight wrap that drapes very nicely. Wear it as a shawl to keep yourself warm or to give yourself more coverage. The wrap can also be worn as a thick scarf. The pattern uses primarily knot stitches to create the body of the wrap. The edging has fun round shaped pieces that dangle. Feel free to adjust the size of the wrap to make it as large or small as you desire by using the instructions within the pattern.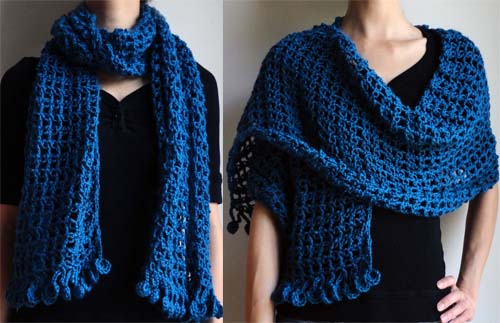 Click here to see full pattern details!
All purchases help to support Crochet Spot and are greatly appreciated! Please log in or create a new account at the Crochet Spot Store to purchase this pattern. Premium Pattern Members may log into the store and download the pattern for free.