Crochet Pattern: Nylon Cleaning Set
By Rachel Choi –
7 Comments
New to the Crochet Spot Store, the Nylon Cleaning Set includes 5 patterns, each uses nylon netting to give an extra scrubbing power. If you've never crocheted with nylon netting, no worries, instructions for working with netting are also included.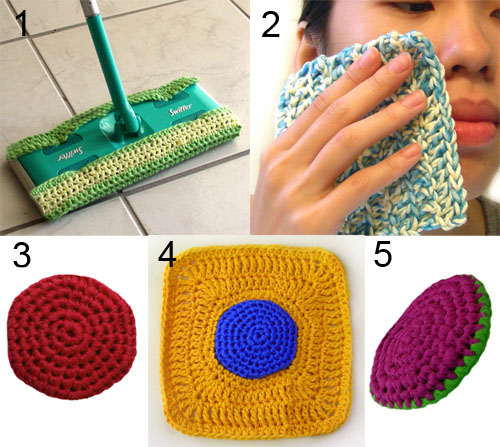 (1) Wet/dry mop cloth is adjustable to fit any mop and has instructions for creating optional straps. (2) Exfoliating cloth is rough yet still has the softness and absorbency of a facecloth. (3) Basic nylon scrubbie is great for scrubbing pots and dishes. (4) Cloth with scrubbie in center is designed so that you scrub and wipe surfaces at the same time. (5) Double sided scrubbie has a rough side and a soft side for your scrubbing and washing needs. — Best of all, none of these patterns require sewing!
| | |
| --- | --- |
| Skill Level: | |
Finished Sizes: Wet/dry mop is adjustable; exfoliating cloth is adjustable; scrubbies are 3″ in diameter; cloth with scrubbie is a 7″ square.
Materials:
Medium Weight Yarn (100% cotton, amount depends on pattern)
Nylon Netting (amount depends on pattern)
Crochet Hook I (5.50 mm)
Download: download this pattern at the Crochet Spot Store.
Log into your store account. If you do not have an account, you can create one for free. If you are Premium Pattern Member, you may download this pattern for free. If not, then you may purchase this pattern by adding it to your shopping chart. All purchase help to support Crochet Spot and are greatly appreciated!