Crochet Pattern: Summer Skies Baby Bibs
By Erin Burger –
4 Comments
New in the Crochet Spot Store, these adorable and fully customizable baby bibs are the perfect fun project for a dreary spring day while you're dreaming about sunny summer skies! The pattern includes one main bib pattern, with 3 different edgings and 3 appliques to choose from. Feel free to mix and match to make several unique bibs! Make these bibs in cotton for an easy to wash end product.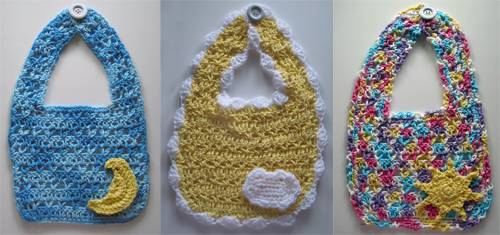 Click here to see pattern details!
All purchases help to support Crochet Spot and are greatly appreciated! Please log in or create a new account at the Crochet Spot Store to purchase this pattern. Premium Pattern Members may log into the store and download the pattern for free.