Crochet Patterns for Dogs
By Rachel Choi –
14 Comments
So you've crocheted for your children or grandchildren, friends and family. But have you made anything for your four legged best friend? Has your puppy been begging for (or stealing) something hand crocheted by you? Crochet something special for your puppy, perhaps a toy, sweater or bed. There are a lot of crochet patterns for dog related items. Here is a roundup of doggie patterns to give you some ideas!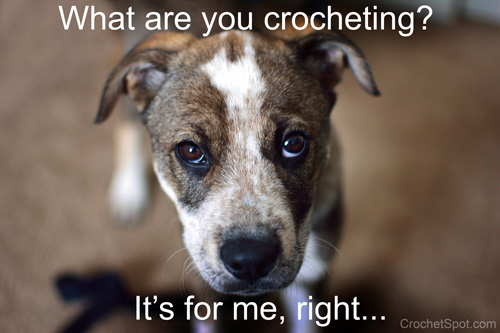 Dog Sweaters
The first crochet item that comes to mind when I think "dog" is a sweater. Yes, small dogs AND big dogs can wear sweaters. Dogs of any size and age can get cold in the winter season if they have thin fur. The
Easy Adjustable Dog Sweater Coat
is a pattern that can be used for any sized dog. It's like a tutorial that shows you how to measure your dog and make a custom coat.
Toys
Toys are super adorable to crochet. You can really use any toy crochet pattern that you like! Do you think crochet cupcakes are cute? Crochet one and add a squeaker inside to make it dog-ish. You can also try the Textured Dog Ball pattern, that has ridges my dog loves. If you're a fan of the classic doggie bone look, try the Dog Bone pattern that comes in 3 sizes for different sized dogs. Keep in mind when you crochet toys, they are soft toys that are meant for dogs who aren't strong chewers or destroyers.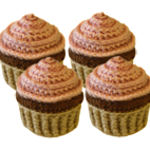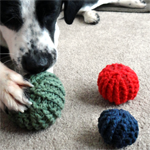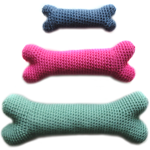 Cleaning Items
If you have dogs, you know they make messes! Shed, drool, track in mud… the list is endless. Crochet a few cleaning cloths to wipe up the mess, then toss them in your washing machine and reuse. Crochet cleaning cloths are sturdier than most people think. Use the Sampler Washcloth Set to try different stitch patterns. You can also try the Nylon Cleaning Set. It has a few scrubbie patterns that are great for cleaning bowls, and also a dry mop cloth that's great for cleaning floors.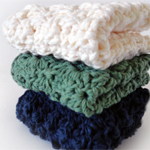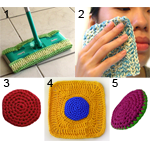 Blankets, Covers, Bedding
Dogs can appreciate blankets as much as humans. You can use them to cover your sofa or line their doggie beds. Choose a yarn that is machine washable so you can toss the blanket in the washing machine whenever needed. I find that solid stitched blankets work well for dogs. Use the
3 Solid Blanket Stitches
or check out the
blanket pattern section
to get started.
Do you have dogs? Have you crocheted for your dog? What items did you make? Feel free to share in the comments below!