Crochet Startitis? Blissful.
By Caissa "Cami" McClinton –
1 Comment
Remember back a while ago when I asked you to pay attention to what inspires your crochet? Well, I have been doing just that lately and I have two wonderful inspirations that have led to a big case of Crochet Startitis and I am loving it!
The first source of inspiration is the opening of a new and great yarn store in my local area! The beautiful store is called Sheep Thrills of Lauderhill, FL and it is focused upon creating an open & welcoming environment filled with uniquely beautiful, inspiring yarns. One of the great things I noticed was that the yarn prices varied greatly! I got a ball of really high quality and adorable t-shirt yarn there for $5, which is much less than what a comparable skein cost at my local big box!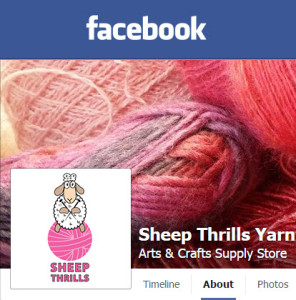 As I shopped the store on my first visit, I selected a single skein of hand dyed merino by Plymouth Yarn (similar to this) that spoke to me because I had had a specific idea in my head for a while. It was a splurge for me, but I did buy the yarn and I created a shawlette with it. Since I only bought one skein, I edged the shawlette with a coordinating color from my stash and finished it! The finished product is lovely and I adore it!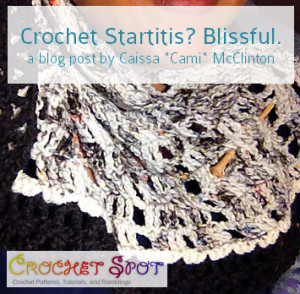 The second source of inspiration was becoming connected with some of the great new crochet books out there. I went to my local Barnes & Noble one day for tea with my sister and we looked through a number of books. It had been so long since we'd been there! I was happy to find a number of new crochet books that were just completely inspiring! I decided to purchase Rustic Crochet by Yumiko Alexander then and there. I've since ordered Kristin Omdahl's Crochet So Lovely! These two books are beautiful and full of gorgeous, inspiring patterns.
I currently have two active projects on the hook, but about five more buzzing around in my mind. I want to crochet all the things! At that is what we call Startitis. (Well, technically it is when you continually start projects without regard to finishing the previous one.) It's often jokingly described as an affliction, but I call it blissful, because I love being inspired by my craft. If that means I am starting more projects, whether or not I've finished them, then so be it! I can always enter the Finish in '15 contest for any projects I do complete this year! We still have a full seven months left in the year, right?
So what about you, my friends? Do you have startitis? Have you ever had it? What's fueling your crochet fire? Please leave your thoughts, ideas and questions in the comment section below.