Crochet Technique: Hairpin Lace – Part 1
By Corinne Munger –
32 Comments
| | |
| --- | --- |
| I recently came across one of the most gorgeous scarves I've ever seen and knew I had to make it. To my surprise, when I read the instructions, it begins with hairpin lace –something I know nothing about, but am now determined to learn. This craft began in Victorian times and is so called because women actually used their hairpins to create this beautiful lace. As seen in the photo, hairpin lace is a length of loops connected by crochet. You can use this for a multitude of items. | |

I thought that by exploring this technique in two parts, you would get a first hand, step-by-step tutorial where we could learn together. So, first things first, I had to purchase a hairpin lace loom. I didn't even know these were still sold, but I easily found one at Joann Fabric. It was only $6.00 and with a coupon I got it for $3.00. How can you resist learning a new technique for $3.00? I can't!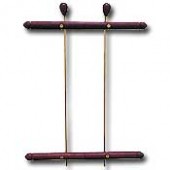 Here's what I've learned so far…
1) It appears to be a lot harder and more complicated than it actually is!
2) Hairpin lace is basically a length of loops (or a strip) that are joined in the middle with crochet. You can then attach the loops to other loops (1st picture), leave them alone as a fringe, or edge them (second picture).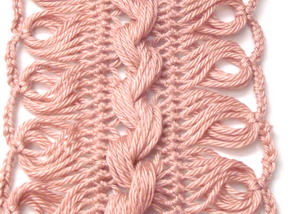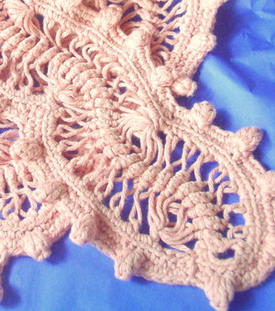 3) Using a proper hairpin lace loom, you can adjust the size of the loops to make small, 1/2″ sized loops, or larger 2″ loops (some looms will make the loops even larger still).
4) This is the only way you can achieve this look in crochet. You can make many strips and then create articles of clothing, blankets, table linens, etc. by joining them together. Though it's similar in look to the broomstick stitch, it really isn't the same.
5) Once you add yarn to your loom to begin, there's lots of flipping and turning of both the loom and the crochet hook. It must be done in the correct sequence for it to come out properly.
So, I'm going to start with my loom today. I actually can't wait. I think this is going to add a whole other dimension to my crochet skills and start me on a path of all new designs. This technique seems very versatile with many levels of possibilities. In my next posting, I will hopefully have some photos of step-by-step instructions for you. Maybe you'll decide to give it a try too!
Have you ever tried this technique? Do you have any pointers for a beginner? Share your knowledge here – I love these helpful discussions!