Dealing with Crocheter's Arm & Hand Pain
By Caissa "Cami" McClinton –
16 Comments
It has happened! The thing that all yarn crafters fear has happened to me! I have hand and arm pain! 🙁 I have been pretty lucky so far, considering how much I use my hands for typing, mousing, manipulating my smart phone, and of course crocheting.
Since there is an abundance of information about crafter's hand and arm pain on the web, I'm going to outline the steps I am personally taking to deal with my own problem. Needless to say, I am not a doctor, and this is not meant to be medical advice.
My pain is in my right hand, mostly between my thumb and forefinger. It extends to my wrist and is also sometimes shooting up my forearm. Boo! For a few days I couldn't use my right arm to do a lot of things like holding anything or operating the computer or smart phone. Of course I have also been unable to crochet in the normal way.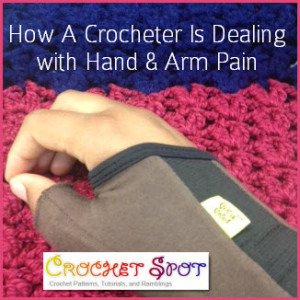 Here are the things I have done to help my hand, wrist, and arm begin to recover.
1. Rest. It was hard to make myself do it, but I had to rest! My body was forcing me to do it anyway. If you're like me and you like to keep going, please remember that by resting more now we can avoid worse problems later.
2. Brace. I happened to find a really good Creative Comfort glove with a palm cushion and brace at a Tuesday Morning store. This is an affiliate link to some similar products on Amazon. The brace I got has worked really well to stabilize my hand so that I don't accidentally turn it the wrong way and cause myself pain. It also helps me to hold my hand the right way if I am trying to do something. I was doing some reading on the topic and it appears that using this kind of brace while sleeping may be of benefit. I haven't tried this yet.
3. Pain Killers. I took Aleve. It just helped to lessen the pain but did not entirely eliminate it.
4. Adjustment of Office Ergonomics. I read a couple of articles about the best positions for typing and mousing and I implemented a few quick changes that cost nothing. I got my ideas from this article.
5. Doctor. Yes, I finally broke down and scheduled a doctor's appointment. This is my second bout with this pain and this time is worse and has lasted longer than the first! I don't like this trend and I don't want to end up with a chronic problem.
6. Exercises. Even though I didn't want to move my hand too much, I did modified versions of these exercises yesterday and I felt a difference immediately and also today. I did them while wearing the brace and very, very, very gently (and some of them not at all) with my hurt hand. I did them normally on my good hand.
About Preventative Care. I may have been able to avoid this by being more disiciplined about taking breaks while working the keyboard at work. I also could have engaged in stretches and strengthening exercises for my wrists and hands. When I'm better I will definitely do some exercises to strengthen in hopes that I may avoid this in the future.
So what about you, my friends? What have you done to deal with hand, wrist, and arm pain? Do you do any preventative exercises? Please leave your thoughts, stories, ideas and questions in the comment section below. I'll update you on my recovery in the comments, too.