Free Crochet Pattern: Autumn Doily Bunting
By Amy Yarbrough –
Be the first to comment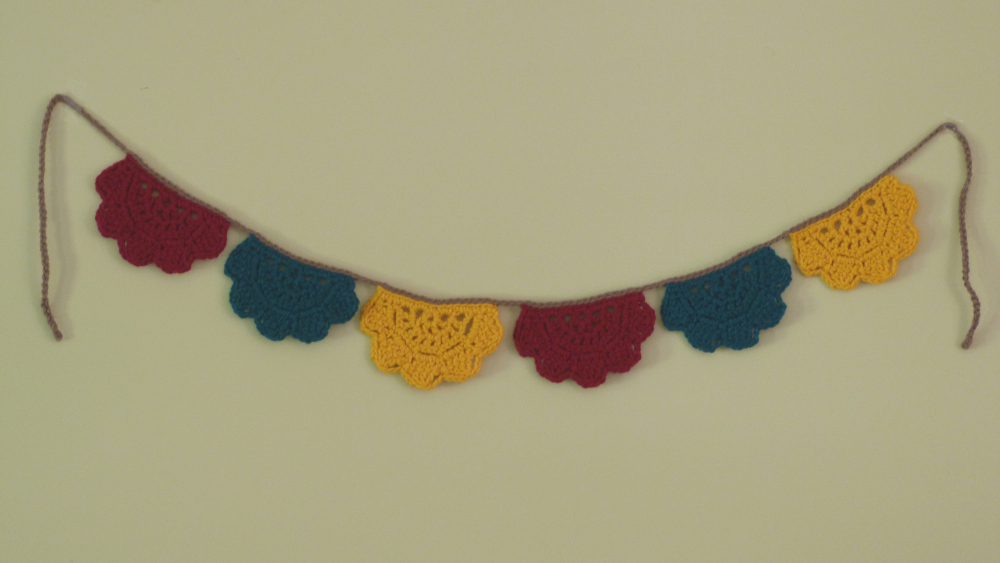 When I think of Autumn I naturally imagine pumpkins — and why not? However, those lovely crocheted creations that have swept the creative world are not the only things we can make for the season. Enter Autumn Doily Bunting, crocheted half doilies stitched onto a simple strand of crochet chain.
Each doily takes only a few minutes to work up so that you can have your bunting created in an hour or two, depending on your speed.
As usual, this bunting pattern can be adapted for as long a strand of bunting as you wish. Simply crochet as many doilies as you like and keep attaching them according to the instructions, being sure to end with a chain of 45.
| | |
| --- | --- |
| Skill Level: | |
Finished Size: 52" long (132 cm), each half doily measures 5" (12.7cm) wide by 3" (7.6 cm) long
Materials:
Medium weight yarn (approximately 20 yards of yellow, teal, and red, and 10 yards of brown)
Crochet hook 4.50 mm
Gauge:
Row 1 in pattern measures 1 1/2" long
Need help understanding the abbreviations and symbols? Check out the crochet abbreviation chart.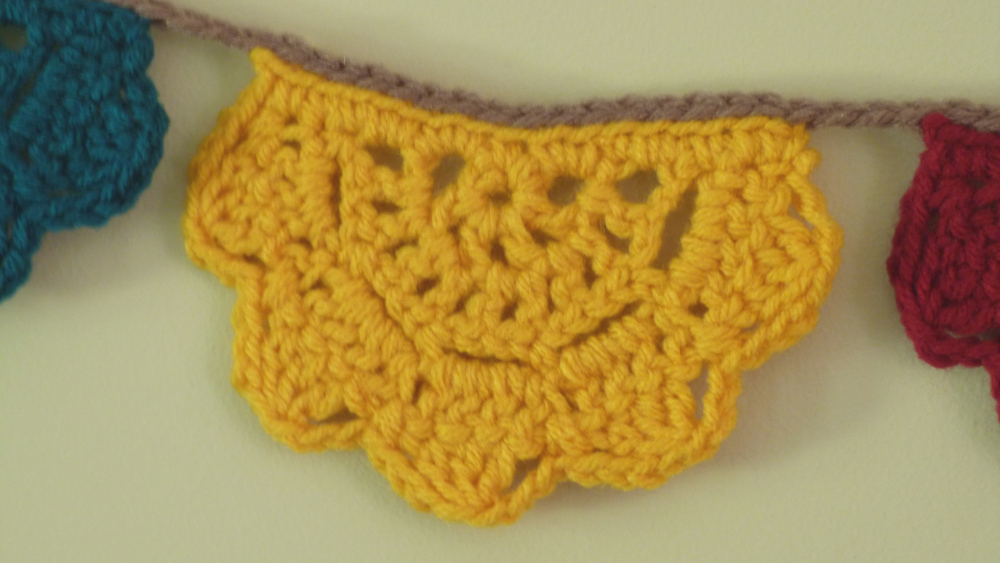 Crochet Pattern: Autumn Doily Bunting
Note: make 6, 2 in each color
Row 1: ch 4, sl st in first ch made to form a ring, ch 4 (counts as 1 dc and 1 ch), (dc, ch 1) 4 times in ring, dc in ring: 6 dc
Row 2: ch 4, turn, * dc in next ch-space, ch 1, dc in next dc, ch 1, repeat from * across, ending with a dc in the third ch of beginning ch-4: 11 dc
Row 3: ch 1, turn, * sc in next dc, ch 3, skip next dc, repeat from * across, sc in third ch of beginning ch-4: 6 sc
Row 4: ch 1, turn, * sc in next sc, ch 1, 3 dc in next ch-4 space, ch 1, repeat from * across, sc in last sc: 21 sts
Row 5: ch 1, turn, * sc in next sc, ch 3, dc3tog, ch 3, repeat from * across, sc in last sc: 11 sts
Turn and sc along bottom of doily, finish off.
Assembly
With brown, ch 45. Pick up a doily and sl st along back loops of sc row, ch 3. Pick up next doily and repeat until all doilies are added. Ch 45 and finish off.
If you have any questions about the pattern please feel free to leave a comment below!