Tips from the Doily Nerd: Crocheting Your First Doily!
By Molly Ferriter –
20 Comments
| | |
| --- | --- |
| Hello, my name is Molly and I'm a doily nerd. Yes, that's what I said, a doily nerd! I love doilies of all shapes, sizes, and types: ruffled doilies, vintage doilies, oblong, square, and rectangle doilies. Did you know there are doily patterns with 3D swans? Here's my question for you- Why haven't you started your first doily!? I remember your New Year's resolution from 2012. You haven't made one yet, have you? Well, here's a few tips to get you started! | |
Many crocheters have a fear of the tiny, tiny crochet thread. But don't worry, we can tackle that! There is nothing to be afraid of! It's just like switching from bell bottoms to skinny jeans- a little tight at first, but then you get used to them!

Pick an appropriate, beginner's doily pattern.
Look for a free pattern (this is your first doily, we aren't going to be making a family heirloom passed on to your children's grandchildren and hung up over the fireplace in awe- not yet atleast). We are looking for a pattern that gives you some practice under your belt, some skills, some experience, so pick a simple, easy-to-understand pattern.
Find a pattern that is clearly marked "beginner" or "easy".
Very important: The pattern should have a stitch count at the end of the rows.
Now that we've got a pattern, let's get hooking! For this post, I used the Crochet Spot free pattern, awesomely entitled, Hipster Doily. With a name like that, I couldn't resist crocheting it!
Doily Tips for Beginners:

1. Use
stitch markers
. It doesn't matter how advanced of a crocheter you are. If you are new to doilies, you need to faithfully put a stitch marker in the first stitch of each round. As you get to the last stitch of the round, move the stitchmarker to the first stitch of the next round, and so on.
2. COUNT! COUNT! COUNT! When we crochet doilies, each round builds upon the stitches from the previous round. You may complete the round and everything looks great. However, without counting the stitches in each round, you may not know that you have made a mistake until several rows later, and the only way to fix it is to rip up the stitches until you get to the mistake! So count the stitches in each round and make sure that your count matches the stitch count in the pattern.
Let's Crochet!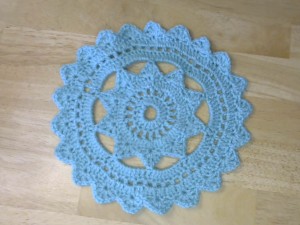 For your first doily, you want to get used to crocheting a doily pattern without the worry and strain of working with a smaller yarn or thread at the same time. You are going to crochet the doily in a regular-size yarn; pick your favorite yarn and hook. Don't worry about crochet thread yet, first we want to get a feel for the pattern and practice the stitches. I crocheted mine with Red Heart Super Saver in Aruba sea with a size I (5.50 mm) hook.
A little smaller...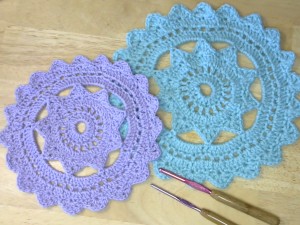 Next we are going to crochet the doily with a somewhat smaller yarn. We want to "ease" into the crochet thread, making the same doily a little smaller each time. I crocheted this one with Omega Sinfonia mercerized cotton yarn, which is a sportweight yarn, and a size H (4.00 mm).
Let's try it with crochet thread.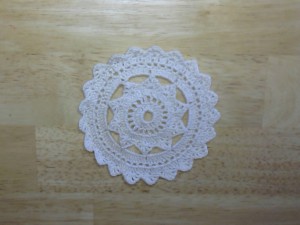 Now that you have made the same doily with yarn a couple times or more, you want to give it a go on crochet thread. You may find it beneficial to make more than two doilies in different sizes; repeat until you are comfortable with the pattern. The most common thread used today for doilies and other crochet thread projects is size 10, and it's a great thread for beginners. For size 10 thread, the suggested hook is a size 7 (1.65 mm/ U.K. #4) or size 8 (1.5 mm/ U.K. #4 1/2). I would strongly suggest using a larger hook for your first try using thread, whatever you are comfortable using, maybe a 2.00 mm or even 2.25 mm.
Here's my finished Hipster Doily size 10 thread and a 1.50 mm hook.
It may take a few times to get your doily right. You may have to rip out rows (or the entire doily) a few times. Don't give up! Repeat these steps until you have the pattern down. Then, you can move on to another fantastic doily. Each time you will build your doily repertoire. Soon you will be a doily maker! Doiliest? Doilier? Hmmm.
Okay, Crochetspotters! What tips do you have for beginner doily makers?