Tips from the Doily Nerd: Getting that Vintage Look
By Molly Ferriter –
12 Comments
| | |
| --- | --- |
| In my doily nerd opinion, the only thing better than a doily is a vintage doily. But how can crocheters today achieve the look of a vintage doily? In this post we will be traveling back in time to the days when every household had doilies on display and every armchair had antimacassars. (What is an antimacassar? Read on…) I will be discussing the thread and patterns needed to achieve the vintage look. | |
 
First, let's talk crochet thread. The majority of doily makers today use size 10 crochet thread. However, in the first half of the 20th century, crocheters typically made doilies out of much smaller thread. A few months ago I made the jump from size 10 crochet thread to size 30. It took a little bit to get used to, but the look is remarkable. The smaller size thread immediately gave my doily a vintage look. It created a more intricate, lacy look that is unmistakably vintage. With my first piece, I fell in love with size 30 thread. The delicate, elegant look of smaller thread is stunning. Crocheters from the first half of the 20th century frequently used even smaller thread than size 30.
The picture on the left shows the same pattern being worked in size 30 thread with a size 1.0 mm hook and in size 10 thread with a size 1.50 mm hook. The difference is striking. It makes the size 10 thread look huge. If you are already crocheting with size 10, you can make the move to size 30. Don't be scared of moving to a smaller thread. Use a pattern that you have already made in size 10 and try it in size 30. For the hook, move down just a couple sizes for the size 30 thread. I generally use a size 1.5 mm for the size 10 thread, so for my first doily in size 30, I used a 1.0 mm hook. You can do it!
Secondly, we need a good vintage pattern. There are many great sources for vintage crochet patterns. I'll just share a couple of them today. Do a google search and you'll find even more!
The first site is
freevintagecrochet.com
. I use this webpage all the time as it is a wonderful source for all kinds of vintage crochet patterns and has a huge collection of vintage and antique doily patterns. Sign up for the newsletter and you can receive updates, showing the vintage pattern books that have been added to the site every month. You can pay for a collection of newly digitized vintage pattern books or you can download patterns individually for free. I love this site and am amazed at the sheer number of books that they have made into ebooks that are now available to everyone. Look under pattern categories for a categorized list of vintage patterns. Look under "restored pattern books" for a HUGE list of actual vintage and antique pattern books that have been placed on the site. This site is a treasure!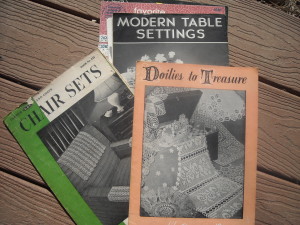 One other great place to find vintage patterns is Ebay. I have purchased several original pattern books on Ebay for very low cost. The multitude of vintage pattern books available is astounding! The picture on the right is just a trickle of the vintage books I have purchased through Ebay at very cheap prices.
The third site that I love is actually a Yahoo group. Celt's Vintage Crochet takes crochet patterns that are in public domain and makes them available to its group members. There are some wonderful old patterns here and the group is a lovely collection of people dedicated to preserving crochet history. Love it!
Let me know in the comments section about your experiences with vintage doily projects. Have you ever crocheted using size 30 thread or used a vintage pattern? Should I tell you what an antimacassar is? No, I think I'll leave it for the comments section. Wink, wink!