Hooks are for Crochet, Not for Swordfighting
By Erin Burger –
9 Comments
When I was a little girl I was obsessed with my grandma's crochet hooks. There were so many different sizes, colors and in a few cases, different shapes.  My favorite was a large size N aluminum hook in Gold.  I thought it looked more like jewelry than a tool for making afghans and also made for an awesome (and blunt) sword.
She quit crocheting when I was in my late teens due to arthritis and gave me all of her hooks and supplies.  I spent lots of days getting them out, looking them over and playing around with them, but never learned to use them.  Later, while on bedrest with my second daughter, I finally learned.
At first everything I made was completely incorrectly sized, mainly due to the fact that I insisted on using the shiny gold hook for every pattern I was trying to make¸ regardless of what size hook the pattern called for.  Soon I learned the difference between the hooks I found in the large tin box, and which ones I preferred over the rest.

STEEL HOOKS: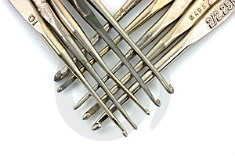 There were lots of thin steel hooks in my grandma's collection, which she mainly used for making doilies or similar lacework. I use small steel hooks for making appliqué with lace yarn or fingering yarn and when using those yarns for thin, stretchy items like headbands in cotton/linen mix.
Here are the sizes of Steel Hooks (in Millimeter and their corresponding U.S. Sizes usually both listed on hooks):
Crochet Hook Sizes
| | |
| --- | --- |
| Millimeter | U.S. Size |
| .75 mm | 14 |
| .85 mm | 13 |
| 1.0 mm | 12 |
| 1.1 mm | 11 |
| 1.3 mm | 10 |
| 1.4 mm | 9 |
| 1.5 mm | 8 |
| 1.65 mm | 7 |
| 1.8 mm | 6 |
| 1.9 mm | 5 |
| 2.0 mm | 4 |
| 2.1 mm | 3 |
| 2.25 mm | 2 |
| 2.75 mm | 1 |
| 3.25 mm | 0 |
| 3.5 mm | 00 |
ALUMINUM HOOKS: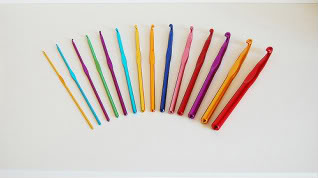 My favorites (of course) were the many colored Bates and Boyes aluminum hooks.  Those two brands run a monopoly on aluminum crochet hooks and have very subtle differences.  I crochet every day and hardly notice the difference, aside from the actual brand name on the hook.  A completely thorough look shows Bates hooks are 'inline' hooks, which means the head of the hook is 'inline' with the rest of the hook.  Boyes hooks are 'tapered', which means there is a taper between the head and body of the hook.  I've never read a pattern that called specifically for a Bates or Boyes hook in particular, so as long as you have the correct size, I wouldn't fret over 'inline' and 'tapered'.
Here are the sizes of Aluminum Hooks (in Millimeter and their corresponding U.S. Sizes usually both listed on hooks):
Crochet Hook Sizes
| | |
| --- | --- |
| Millimeter | U.S. Size |
| 2.25 mm | B-1 |
| 2.75 mm | C-2 |
| 3.25 mm | D-3 |
| 3.5 mm | E-4 |
| 3.75 mm | F-5 |
| 4 mm | G-6 |
| 4.5 mm | 7 |
| 5 mm | H-8 |
| 5.5 mm | I-9 |
| 6 mm | J-10 |
| 6.5 mm | K-10 1/2 |
| 8 mm | L-11 |
| 9 mm | M/N-13 |
| 10 mm | N/P-15 |
| 15 mm | P/Q |
| 16 mm | Q |
| 19 mm | S |
BAMBOO AND ACRYLIC HOOKS:
Bamboo hooks are popular because of how light they are, some being up to 60% lighter than aluminum hooks and although acrylic hooks might not be as light as bamboo; the average person wouldn't be able to tell the difference between their weights.  They both come in the same sizes as aluminum hooks.  I personally don't like using these two types of hooks because of their insubstantial weight; I find it difficult to keep the same tension throughout a row.
HELPFUL HOOK HINTS:
A smaller hook will not only make a small stitch but will also make a thinner finished product.  If you're making an afghan an E sized steel hook isn't going to give you a thick result.  For warm afghans the bigger the better!
Some yarns and certain size hooks go hand in hand. For example, I have found that a fingering yarn made of an organic material like Peruvian Wool just can't be used with a hook bigger than G, unless you have a project that has lots of open work and is very thin and delicate.
Want to make a hat? Worsted or DK weight yarn and a H hook have never let me down!
If you're working on a garment or a something detailed and size is important, pay attention to your gauge! See What the Heck is a Gauge for more information on getting gauging right.
Look for hooks at yard and garage sales.  It almost never fails that someone's going to have some.
You can never have enough crochet hooks. On average I lose at least one hook a week, not to mention how many get taken by my children for playthings.
Have anymore hook related tips? Share here in the comments of this post!