How To Crochet: Blanket Stitch
By Robin Beers –
308 Comments
| | |
| --- | --- |
| This easy stitch is perfect for an afghan or blanket. It is just sets of 3 stitches, one single crochet and two doubles. Once you get into the hang of it, you can do it in your sleep! Use it for a baby blanket in a pretty pink or blue or for a regular afghan with bright colors! You can change colors after a few rows for a multicolored effect. | |
The photo above is a baby blanket I am working on for charity. I am using a J-hook for this with worsted yarn. Decide how wide you want your blanket to be and chain the proper number in multiples of 3. I chained 108 for this blanket and it is about 31 inches wide. For more blanket patterns using similar stitches, click here. Oh, and by the way, feel free to try this stitch on a scarf if you want! Experiment!

Note: If you are left handed, just put your mouse over the photo for a left-handed view.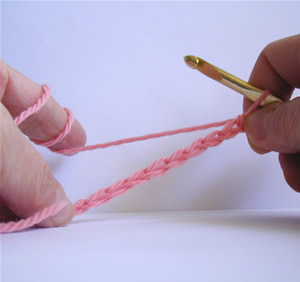 Start with a foundation row of a multiple of 3 chains.
I chained 12 here.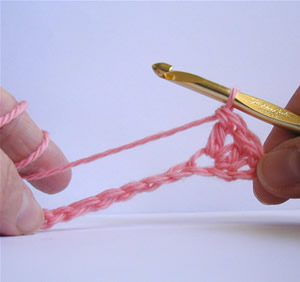 Row 1: Make 2 double crochets in the 3rd chain from the hook.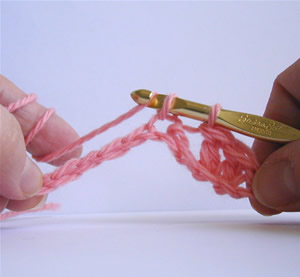 *Skip 2 ch. Make 1 sc in next ch.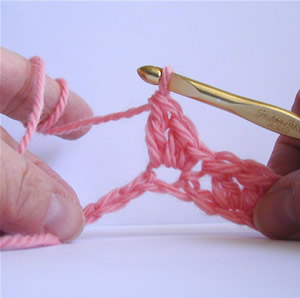 Make 2 double crochet in the same ch.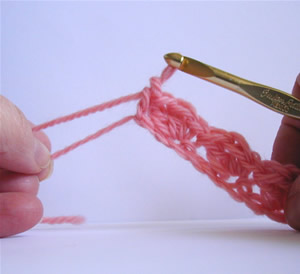 Repeat from * to the end of row 1 ending with 1 sc in the last ch.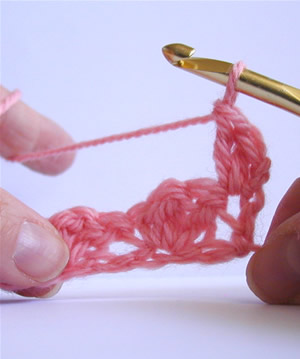 Row 2: Chain 2, turn, make 2 dc in first sc.
**Skip the next 2 dc, Make sc and 2 dc in next sc.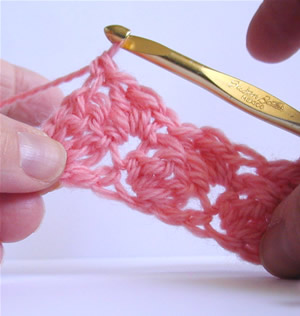 Repeat from ** across ending with 1 sc in the top of the ch-2.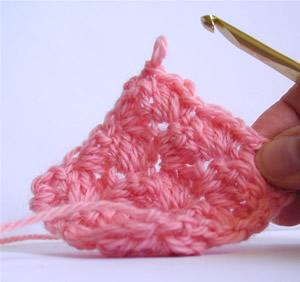 Repeat Row 2 until desired length is made.
If you have any questions, don't hesitate to ask.
Update: A lot of folks have asked about a border for their finished project. You can add any border that you like! If you want to use the same stitch pattern for your border, you can use the row 1 instructions but work it around the edge of the blanket. Instead of working into chains, you'll be working into the sides of stitches that are along the edge of the blanket. If you are worried about spacing your stitches, you can use this tutorial first: Crochet Finish Technique: "Crochet Evenly Around" to create a regular single crochet border. Then crochet the edging into the single crochets.
Click here for more blanket patterns!