How to Crochet: Broomstick Lace Decrease
By Candace –
Be the first to comment
If you've already tried increasing broomstick lace, you probably know shaping isn't too complicated. Like the broomstick lace increase, the decrease is worked on the single crochet row. If you are not familiar with broomstick lace or you need a refresher, take a look at the How To Crochet: Broomstick Lace tutorial.

For a left-handed view, hover your cursor over the photos.
As with the increase tutorial, I am working with groups of four loops. I will be decreasing from three groups to two, which means going from 12 stitches to 8. The numbers don't work evenly in this case, so I work 3 sc in the first and last groups and two sc in the middle group.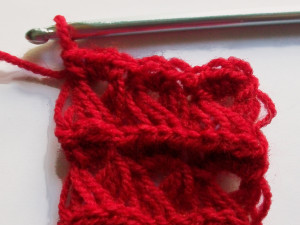 Next, I turn my work and pull up a long loop in each sc.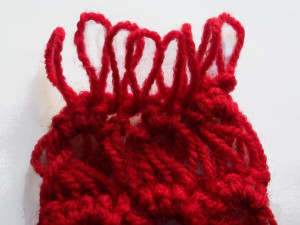 Now it's time to work a plain row, so I make 4 sc in each group of 4 loops.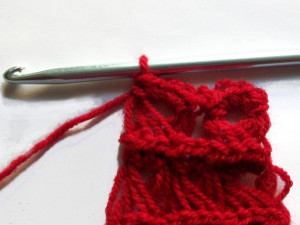 Remember keep in mind what kind of shaping you want for your broomstick lace and work the math out accordingly.
For further help, feel free to leave a comment.