How to Crochet: Tunisian Increase Within a Row
By Candace –
Be the first to comment
In Tunisian crochet, there are three types of increases: ones made at the beginning or a row, ones made in the middle of a row, and ones made at the end of a row. This tutorial will show you how to increase in the middle of a row. Since what you do in the next row is what determines how your stitches look, this increase will work for any Tunisian stitch.
Left-handed crocheters can mouse over the photos for another view.
First work up to the place where you would like to increase. Here is a picture of the space where you will insert your hook. It is underneath the horizontal bar that runs between the vertical bars.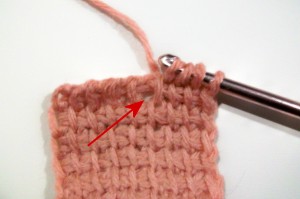 Insert your hook.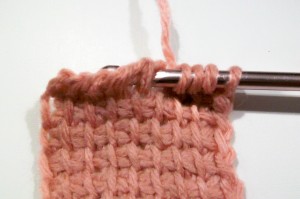 Yarn over and pull up a loop. Try not to make the stitch too tight to minimize the appearance of a gap or hole.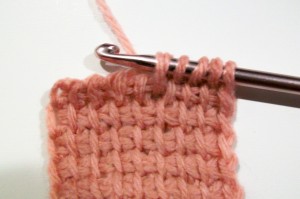 Your increase is made, and you can continue working across the row. On the return pass, just work as you normally would.
If you have any questions, feel free to leave a comment.