How to Crochet: Bruges Lace
By Candace –
13 Comments
Bruges lace is a technique that originated in Belgium that uses structure that consists of a ribbon/tape and chains on either side of the tape that create the lacy effect. This method of creating lace is actually quite simple, but can yield gorgeous results both alone and when mixed with other crochet techniques.
Here you can see a basic Bruges lace tape. If you look at it carefully, you can see that in its most basic form, it is a thin crocheted strip with extra long turning chains.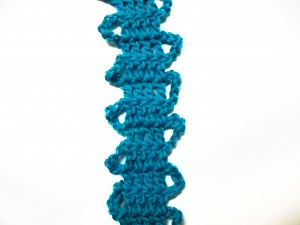 The real beauty of Bruges lace comes out when you add shaping to it. To make the lace turn and curve, you vary the stitch height in the ribbon. In this example I used sc to shape the piece. The shorter stitches (sc) are worked on the inside of the curve and the taller stitches (dc) are worked on the outside.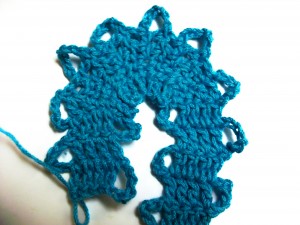 This technique is deceptively simple and is great for those who like to work freehand because you can easily adjust your shaping as you go. For those who would rather plan out their work, Bruges lace can also easily be done symmetrically.
For a sample of a Burges lace pattern, feel free to try the Bruges Trim Pouch Crochet Pattern.
If you need any help with the technique, feel free to leave a comment.