How to Crochet: Increasing in Foundation Rows
By Candace –
4 Comments
Using Foundation rows is a great technique, because they can create the foundation chain and the first row of stitches at the same time. But if you are a fan of foundation rows (foundation single crochet, foundation double crochet, etc.), you may have run into problems dealing with patterns that require increases to be worked in the foundation chain. It's tempting to simply create the final number of stitches, but since increases affect shaping, it is better to follow the pattern as written and make the increases.
To follow this tutorial, you should be comfortable with making a foundation row. This technique is adaptable to other foundation stitches, but single crochet will be used to demonstrate.

To see a left-handed view, hover your cursor over the pictures.
Start your foundation row as you normally would. A stitch marker or scrap of contrasting yarn will come in handy here if you have trouble reading your crochet. Mark the last stitch before the increase through the loops where you will be placing your next stitch.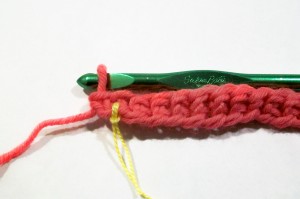 Create your next foundation stitch as you normally would, inserting your hook into the marked loops.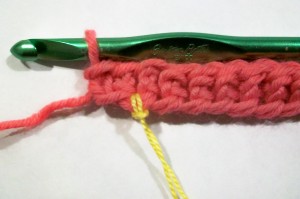 Insert your hook into the same marked loops and complete another stitch.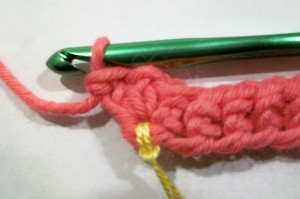 You can do this for as many stitches as you need to increase then continue across the row as usual.
If you need further help, feel free to leave a comment for clarification.