How to Crochet: Starting a Circle
By Candace –
4 Comments
When making a flat circle, my preferred method is the adjustable ring–an alternative to the traditional method often given in crochet patterns. However, some people may wish to use an alternative to the ring, and when the ring is the method given in the pattern, it's good to know what the traditional method is.
This way of starting a project in the round is simple, but it can take some trial and error to get the center you want. Working your chains too tightly or too loosely can lead to ripping your first round back several times at the start of a project, so it may take some practice to get it right each time.

You can mouse over the photos for a left-handed view.
First chain enough stitches to make a turning chain plus one. (A round of dc would need 4 ch)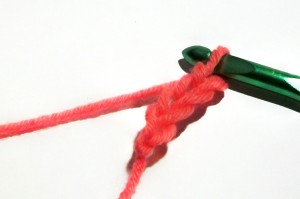 Begin working into the last ch from the hook (the first ch made).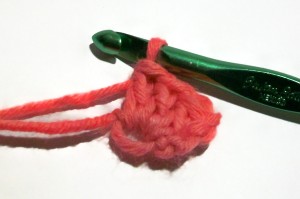 Note: you will be working into the top of the chain as usual as well as the bottom ridge of the chain.
Once you have made all your stitches, secure the round as needed, whether it is with a slip stitch or by simply continuing in a spiral.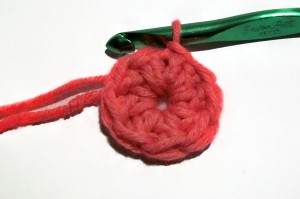 If you need further help, feel free to leave a comment.