How to Crochet: Textured Single Crochet Stitch
By Erin Burger –
5 Comments
This textured single crochet stitch is great for adding a ridged look and a bit of extra thickness to full sized afghans or for washcloths and face scrubbies! Want to know where the back loops are in sc? See Crochet in Front, Back or Both Loops for more information.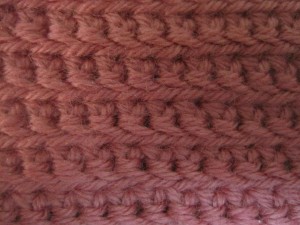 Chain as many as needed for appropriate width.
Row 1: sl st (in top loop of ch only) in 2nd ch from hook and in each ch across.
Row 2: ch 1, turn, sc (in top two loops of sl st) in first sl st and in each sl st across.
Row 3: ch 1, turn, sl st (in back loops only) in first sc and in each sc across.
Repeat Rows 2 and 3 until appropriate length is reached.
Have a suggestion or question about this stitch? Please don't hesitate to comment here!?