How to Make Crochet Flip Flops
By Candace –
Be the first to comment
Flip flops are pretty much the unofficial footwear of summer. If I'm not at work, you can probably find me wearing one of the many pairs from my colorful collection. Unfortunately, the straps and toe pieces of flip flops can be irritating.
Replacing the original straps work both as a remedy for this problem and as a way to make your flip flops unique. With crochet straps, you have a wide range of possibilities. Maybe you're fine with a simple single crochet strap or maybe you'll use a lace edging pattern with your favorite color base. The choice is yours!

To customize your pair, you'll need:
Scissors
Flip flops
Yarn and hook (Cotton and other cool-weather fibers are preferable)
Tape measure
Glue (I used super glue)
The first thing you need to do is cut off the straps. It is best to cut as close to the circular pieces that keep them on the shoe as possible to make it easier when it's time to measure. Hang on to all pieces for now.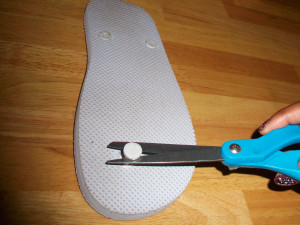 Now it's time to measure. It's important to make sure your straps are long enough to work with. You can use the ones you cut off as a guide, making sure to measure the part that goes between your toes as well. Add a few inches to your measurement to allow for fitting and trimming.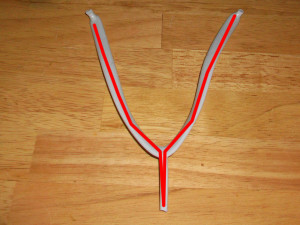 Crochet your straps. If you use a pattern make sure you adjust it to make the length you need. Too long is fine, but too short is a problem.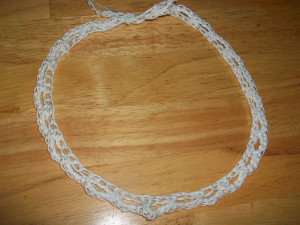 Now comes the assembly. Try the flip flop on as you go to make sure you get the perfect fit.
It's easiest to start with the hole in the front. Making sure you have enough length for the straps, get your fabric through the hole. Your hook is a great tool for pushing and pulling the strap through the hole.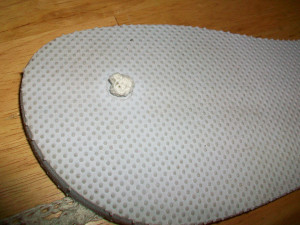 Glue one of the circular pieces to the bit of strap poking out then put a small amount of glue around the hole. Carefully pull the strap and circular piece back, bonding the circular piece to the sole.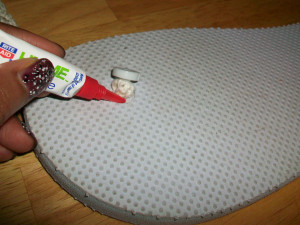 Push the ends of the straps through their respective holes and trim them. For each strap, use a small amount of glue around the hole and on the fabric poking though. Cover with the remaining circular pieces.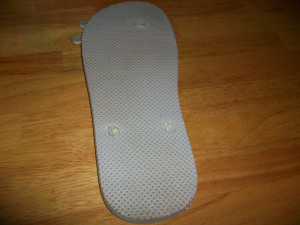 Turn your flip flop over and apply a small amount of glue to each hole, making sure the straps are bonded to the sole. When it dries, your flip flop is ready to wear.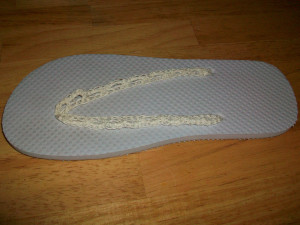 Wit so many colors of yarn and ways to embellish, you can really make your flip flops your own. Try thinner or thicker straps, add beads, or try anything that comes to mind.
If you need help, feel free to leave a comment below.