How to Make Scratchy Acrylic Yarn Soft and Lovable
By A Guest Writer –
36 Comments
A Guest Post by Molly Ferriter.
(Tips from a Crochet-Obsessed Mommy)
Okay, I'll admit it… I used to be a yarn snob. I'm serious; I was a real Crochet Princess. I used to shun the Walmart yarn section like the black plague. I mean, who wants that scratchy acrylic yarn anyway? I'll tell you who… I do! I am a former public school teacher turned SAHM (stay at home mom), obsessed with crocheting, and now that my family of five lives on one income, I can't afford to be a yarn snob. And to be honest, I've come to love the abundance of colors and the wash-ability in acrylic yarn. I very rarely use anything else anymore. I can toss my hand-made hats, mittens, sweaters, afghans, and amigurumi Elsa dolls right into the washer without worry, because honestly, I don't have time to hand-wash my crocheted items. I need a durable, washable, dryer-safe, colorful, kid-friendly yarn. Red Heart Super Saver to the rescue!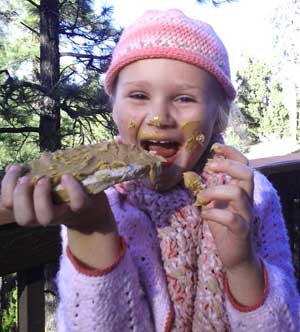 I know your children and grandchildren are clean, tidy little angels that don't leave your hand-made winter hats in mud puddles, right? (wink, wink) Well, mine do. My little girls are healthy, active, messy little angels that love everything I make for them, which sometimes means they get dragged through muddy snow piles, dabbled with melting Halloween candy, layered in peanut butter, or worn by puppies at tea parties. They get used, abused, and are all-around well-loved. As a result, everything they wear has to be washable. I have three kids, a sometimes messy husband (don't tell him I said that), two puppies, and an elderly cat. I simply don't have time or energy to hand wash anything. When I do have extra time, I'd rather be watching new episodes of Longmire, or working on a new crochet project, not washing old ones.
I use acrylic yarn that is durable, colorful, washable, and soft! Yes, I said soft. There is just one ingredient needed to make acrylic yarn soft and lovable and its right there in your shower… conditioner!
First of all, you should always wash your hand-crocheted items right after finishing. The process of hand-crocheting leaves skin cells, odors, and just general dust and dirt on the garment as it is crocheted over time. Not to mention the occasional coffee spill or donut droppings. I simply throw the garment or afghan in the washer and wash on warm. Not hot, warm. Please check the washing directions on the label before doing this just to make sure, but I always machine wash my acrylic crochet items.
After washing the item, I throw it in the sink or tub, fill it with warm water and soak it with conditioner. If you don't want to waste your favorite conditioner on your crochet, don't worry, any inexpensive conditioner will work. I use whatever is in the shower at the time. Now comes the fun part, rub in the conditioner. Give it a good massage! Take out your frustrations on it! Turn it into a therapy session and massage it hard as you describe how your dog ate your favorite shawl that morning, or how your kids told you that your new slow cooker Peking chicken recipe was "yucky". Take a couple of minutes to work the conditioner into the fibers.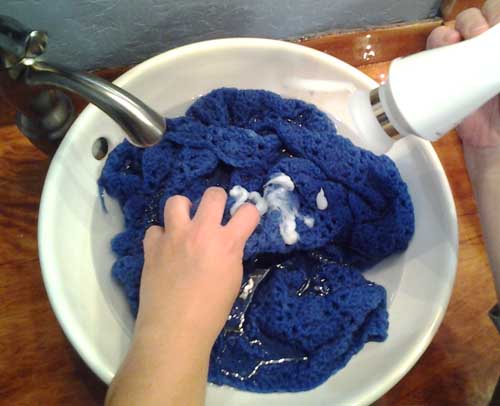 Let it soak for several hours or even over night. Go to bed, watch a movie, clean the house, whatever you need to do because the work is over. That's it, just a quick massage and the work is over. Rinse well, and dry. If you want to block your item, go ahead and block it out and air dry. Otherwise, toss the item in the dryer. Like I said previously, check the label, but I always toss my crochet items in the dryer. Children make way too much laundry to keep up with. I need to be able to just toss it in the dryer.
So next time you reach for the Alpaca silk blend to make your great-niece a baby blanket, or the lace-weight cashmere to crochet that scarf for your next door neighbor's son, stop. Just stop! Give your hand a slap. Go to the next aisle of the yarn section and choose a yarn that is colorful, washable, acrylic, and kid-friendly. Acrylic yarn can be soft and loveable. Besides, you can use the extra money left over to do what all crocheters love. You can buy more yarn!
Molly Ferriter is a public school teacher, turned stay-at-home mom, turned crochet podcaster living on the Mogollon Rim of Arizona. You can watch her crochet-obsessed ramblings on her podcast, "Forest Home Fiber Arts" on Youtube.