How to Transform Your Crochet Mistakes – Part 3
By Tameko Barnette –
5 Comments
This is the last installment of this series on transforming your crochet mistakes. In truth, some of the mishaps that occur in our crochet projects aren't always mistakes. I say it that way because we tend to look at things that way. Crochet is a fun activity, a relaxing hobby, yet it doesn't go without its frustrating moments
In addition, it may not be a mistake, but a coincidence that can turn into a creative treasure. The key factor to handling a crochet mistake is to tap into one's own creativity. In part 2 of this series, I shared ideas on creative ways to use leftover afghan squares. In this last installment of the series, I will share some fun ideas on what to do with spare yarn (i.e., small amounts of yarn leftover). You'll see what I mean, check it out.

Some Fun Ideas for Using Spare Yarn
Idea #1 – Make a few bookmarks with a small amount you have left on a skein. You can use them for your own reading pleasure, but they make great gifts too. I'm sure you know some book lovers who would appreciate a nice hand-crafted bookmark.
Idea #2 – Make a nice garland to decorate your living room, front porch, or window during the holiday season. Especially, if you have any small amounts of red, green, and/or white, you can definitely fashion a nice garland. This is also a great idea if you have one of those small trees that can fit on top of a table to decorate for Christmas.
Idea #3 – Make birthday and holiday appliqués with small amounts of yarn. You can connect a crochet appliqué to the ribbon on a birthday gift box or gift bag to add extra flair for someone's birthday. You can crochet small star or leaf appliqués as Christmas tree ornaments; just add an ornament hook to the top of each appliqué you create.
Idea #4 – Make a cute little keychain add-on for your keys. Take 2 very long strands of yarn to make a nice color combination or 2 strands of the same color, then, chain 9 using a large-size hook, such as J, K, L, or M. Then, turn and single crochet in second chain from hook and in each single crochet across. Fasten off. Then, hook your keychain into the top of your creation. See picture below.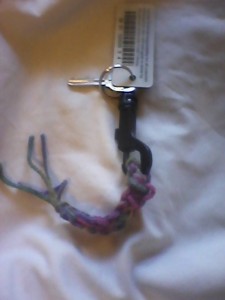 Do you have any creative ideas for using any spare small amounts of yarn you may have at the bottom of your tote bag or in your crochet basket? Please share your ideas with us here. We look forward to hearing from you.