Make Believe with Amigurumi, Crochet Plush Toys Kids Will Love!
By Caissa "Cami" McClinton –
4 Comments
When I was interviewing for my teaching job in Mexico, the principal scheduled our meeting at about 10:30 A.M. As I walked across the campus to get to her office, I passed the kindergarten playground and the air was filled with the joyful squeals of laughter and happy chatter as the children ran and played. They were princesses, sailors, police officers, mamas and daddies. They were big blue whales, lions, puppies, & duckies.
I was sure the principal must have scheduled me right then on purpose. Who doesn't delight in the sheer joy of children at play? It was a very happy time.

Isn't it great that we can use our creativity to strengthen a child's imagination and growth? At one time, I used to poo-poo amigurumi as impractical and useless, like a tchotchke. Now I consider it one of the most important things to crochet, if there is a child we can give it to.
Here are just a few adorable Crochet Spot patterns that kids will love!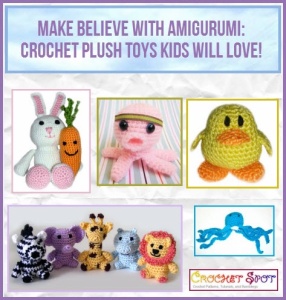 You need a baby squid. This is the key to aquatic-themed make believe playtime! This squid is also very into fitness and sports a stylish headband!
Squid's best friend is this octopus! I love this, because it is not only an octopus, it's a holder. She could also make a great finger puppet!
Peep! Peep! Says this baby chick! So cute for playtime, it would be great to make these little birds in all different colors!
The chick's best friend is this little bunny! She'll never go hungry with her yummy, giant carrot to eat! Is that carrot organic & locally grown, bunny? 🙂
Awwww! You don't have to choose just one, because this super pattern comes with instructions for five animal friends. Make them all and you'll have a super safari!
Bonus: You can crochet your own eyes, too.
As always, if you have any questions, thoughts, or ideas, leave them in the comment section below!