March is NATCROMO! What That Means & Five Appliques to Crochet
By Caissa "Cami" McClinton –
Be the first to comment
Hey, there! Ever seen the hashtag #NATCROMO floating around the internets? Well, it's all about the mellow month of March and National Crochet Month. Yes, in addition its duty as National Craft Month, March is also National Crochet Month, earning it the hashtaggable nickname NATCROMO.
Each year, Crochetville does a NATCROMO comprehensive blog tour and this year is no exception. Be sure to check it out! In the spirit of Ravelry, some inclusiveness-minded yarn partiers have also claimed the month as International Crochet Month, or ITCROMO, so you'll probably see that hashtag, too.
So the question is left – what will we do here at Crochet Spot? In the past, Rachel shared a number of ways to celebrate, and in true Crochet Spot style, you shared your great celebrations! I loved reading about Wanty's shindig. During this particular NATCROMO, I'm suggesting we keep it simple and make up a couple of these cute appliques to wear. Join me?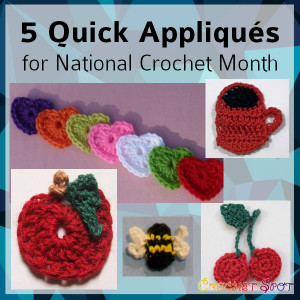 This is the applique I loved the most! Since I just caught the classic mockumentary
Best In Show
on TV last week, I laughed at the name of this
"Busy Bee" applique
. I took a look and it's adorable, too. This is a perfectly quick project to get the buzz going about NATCROMO. 😉
If your heart beats for crochet, grab a hook and six yards of string to make up some Lovely Little Hearts.
Is there anything sweeter than a cherry? Show your fun-loving and kind nature with this crocheted cutie!
It's the first thing on your mind in the morning, and one of the best crochet appliques to make. Caffeinate your crochet with Candace's Coffee Mug.
Apples remind me of fall days and freshness. To me, they're close to being a perfect food. They make a fine brooch as well.
If you get carried away making all kinds of appliques, take Tameko's advice about what to do with all of them.
So what about you, my friends? Any plans for NATCROMO? Which of these appliques do you like the best and what would you use them for? Please leave your thoughts, ideas and questions in the comment section below.