So…What Are You Knitting?
By Veronica Smith –
45 Comments
How many times have you been asked that while you're crocheting? Why do people assume you are knitting all the time? I get confused when somebody asks me what I'm crocheting because it happens so rarely. Little children I am okay with. A lot of times their terminology is not spot on anyhow. Plus I figure they may have less exposure, and they are cute.
Depending on where I'm at and the specific situation determines my answer. Sometimes it's just easier to block out the K word and simply answer with scarf, or whatever it happens to be. Other times I get brave and correct politely, this gets mixed reactions no matter how nicely it is said. Sometimes I end up in a lengthy conversation other times I get looked at like I don't know what I'm saying.

Not so long ago I was waiting whilst my car was getting serviced and crocheting my mum a table topper. A lovely elderly gentleman came and sat with me and watched me for a while and said "my wife used to knit like that, knit with one needle, but she called it something else". We spoke for ages about crochet, his wife and their charmed life. It was a wonderful way to wile away an hour or so.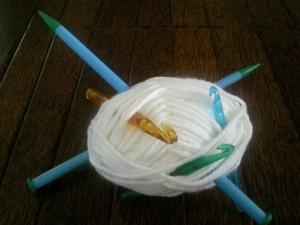 I sit endlessly at dancing lessons for one child or another. I have been doing this for 16 years now so a few children have seen me crochet. It is nice to watch the young ones grow over time and how the different ones react to my crocheting. Some ignore it, some love it and some swing between the two as the years pass. It brings me joy when they run in and check excitedly to see what I am making now. I get a laugh when they chastise me because "you haven't finished that yet?".
Generally speaking, I have found that crocheting in public places does get a reaction, positive or negative it is still a reaction. Some people just look and point then discuss it amongst themselves. It may brighten somebody's day, teach somebody a new word, remind them of someone who passed or just plain give them a laugh. It does however do something.
In the long run does it matter if they what to know what I am knitting? It is the end result that counts. I know what I am doing.
So my friends… What are you knitting?