10 Ways to Show Your Love of Crochet
By Caissa "Cami" McClinton –
Be the first to comment
How do you feel about Valentine's Day? I have had mixed feelings about it over the years. Most of the time I didn't take the holiday seriously other than rejoicing over the return of the conversation hearts. 😉 When I lived in Mexico, Valentine's Day was celebrated as "Dia de Amor y Amistad," or, "Day of Love and Friendship." In the school where I worked, more emphasis was placed upon friendship than romantic love.
Whether it's for love, or for friendship, you can certainly celebrate Valentine's Day with crochet! Here are ten patterns your hook will love!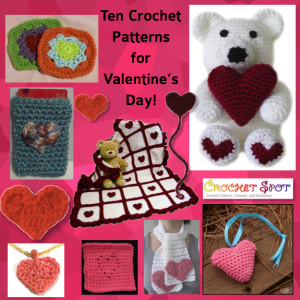 Start small with the free
Crochet Heart Fridgie
. Stick a magnet on back & you're good to go. You could also try the
Heart Bookmark
for instant gratification.
If you want to go three-dimensional, try Amy's winning pattern with her Sweet Little Heart Ornament, or even Rachel's impressive Heart Teddy Bear.
There are two great coaster options in two different techniques: Candace's Tunisian Heart Coaster or Amy's Lovely Heart Motif.
Give in a loving way with the Heart Gift Card Holder. So cute! Make a heart pendant with Candace's fab pattern.
Amp up the neckwear with the Short and Simple Heart Scarf or completely warm up with the Lovable Heart Blanket.
These patterns are cute and inspiring, so I hope they'll get your hook moving! And what about you, my friends? Which of these patterns in your favorite? Please leave your thoughts, ideas and questions in the comment section below.