4 Tips for Crocheting Blankets in the Heat of Summer
By Rachel Choi –
3 Comments
Who wants to crochet with a half finished blanket on your lap when you're already sweating? The thought of crocheting something thick and hot in the heat of summer may make you want to leave your crochet hook behind and jump in the pool. But don't abandon your crochet hook just yet! If you're a blanket lover or simply need to get your project done for a baby shower or gift, here are some tips to make the heat more manageable.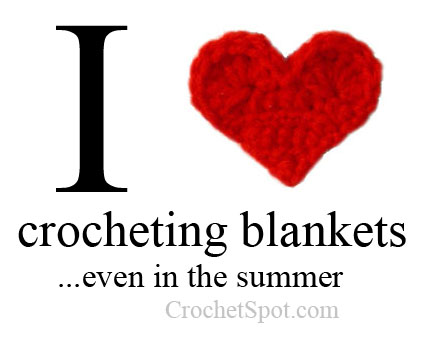 1. Pattern Choice
Choose a pattern that's crocheted in small pieces and later assembled together. Small pieces are more manageable to crochet. Blankets using granny squares or other squares and motifs are a great choice. You can also crochet "mile a minute" style blankets, which are crocheted in long strips.
2. AC or Fans
It doesn't matter what the temperature is outside when you have air conditioning and/or fans inside! As long as you're in a room with regulated temperature you can crochet anything! If you don't have air conditioning in your house, try going to a public library or cafe to crochet.
3. Use a Table
The downside about crochet large blankets in the summer is that they sit on your lap while you crochet. A simple solution is to lift the blanket off of your lap and sit it onto a table. It may seem odd to crochet at a table if you aren't used it to, but the advantage of not having a heavy blanket on you can be well worth it.
4. Yarn Choice
If possible, choose a yarn that is thinner in weight, and avoid the yarns that are thick and bulky. The thinner yarn will not be as hot and heavy to crochet with. You can substitute yarn easily in some patterns, while other patterns may require you to tweak the pattern. If in doubt, use a pattern that already calls for a lighter weight yarn, such as baby yarn.
Don't let the summer heat discourage you from crocheting blankets or other large projects! Do you have tips you would like to share? Feel free to leave a comment below, I would love to hear your tips.