4 Ways to Hold Crocheted Pieces Together for Seaming
By Caissa "Cami" McClinton –
5 Comments
Hello, my Crochet Spot friends! My crochet life has been full and inspiring as of late. I have been working on a lot of different projects which will be used as samples at my local yarn store! It's all very exciting and it has led me to this post about how to hold your crocheted pieces together for seaming. In case you need a refresher, here is my post on How to Join Crochet Pieces Using Slip Stitches and the Outside Loops.
For the longest while, I had wanted to make a tissue box cozy that looks like a piece of cake, and finally, I did it! Since the cozy is crocheted in pieces, seaming was required. Furthermore, this particular pattern is really helped by pinning or holding the pieces together in some way. Today I'm going to share four ways to hold your crochet together for seaming.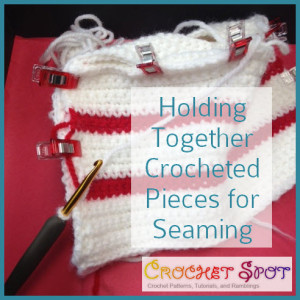 Method One: Straight Pins. You probably have these in your sewing kit already. You can certainly use them on your crochet as well. However, I do advise that you use longer straight pins like these ball pins, or even these pins, which have flowers on the ends. This is because your crocheted fabric will be thick and chunky. Shorter straight pins won't do the job and the small tops on pins may get lost in the work.
Method Two: Clothespins. Again, you may have these around your house already. One advantage is the price. You can buy many for just a few bucks, such as this clothespin pack. One disadvantage is the size. Clothespins can be unwieldy and if you have to pack your project away before you're done seaming your clipped section, you'll run the risk of these falling off.
Method Three: Wonder Clips! Sound the trumpet! I think we have a winner. Originally created for holding fabric together while sewing, Wonder Clips are decidedly awesome and hold crochet together brilliantly. They are made of plastic and they are small and strong enough so that you can pack away your clipped project and work on it later with no worries that you'll have to redo your work. You can see the Wonder Clips in my picture above. I have a pack of 10 Wonder Clips but they come in packs of 50 as well.
Method Four: Binder Clips. Inspired by the awesomeness of Wonder Clips, I wanted to think of an alternative you may already have on hand. Enter binder clips. These can be found in various sizes at office supply stores and will hold crochet very strongly. In fact, I think that sometimes they might hold your pieces a little too tight, but you should try them out and remember they are there in a pinch. They will pack away okay, but I would be careful if there is any chance the clips might rust on your project.
So what about you, my friends? What is your preferred method for holding crocheted pieces while seaming? Are you going to try any of the ideas I mentioned above? Please leave your thoughts, ideas and questions in the comment section below.