7 Speedy Father's Day Gifts to Crochet
By Caissa "Cami" McClinton –
Be the first to comment
While Mother's Day seems to have just passed, Father's Day is sneaking up on us quickly! Even if you haven't chosen the perfect gift for Pops, you still have time to whip him up something handmade and from the heart.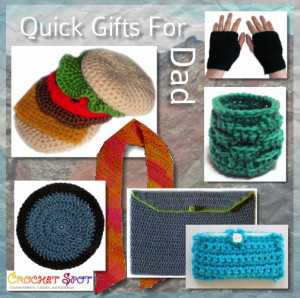 Is your Dad a grillmaster? Imagine how happy he will be to receive a crocheted burger! And each layer of the creation has a purpose. They're all coasters!
If you're really short on time, one Extra-Large Handmade Coaster will do just fine!
I like this basketweave canister as a drink cozy or stretched over an old soup can to hold pencils on a desk. Your father will think of you when he uses it!
For the Dad on the go, a business card holder and laptop sleeve can help him to keep everything in place.
Did you get your sense of style from your Dad? Did he get his style from Fred on Scooby Doo? If so, he might like this Bias Ascot (to be worn with blue pants, of course.)
Although he may not need these for a few months, crocheting your Dad some Fingerless Gloves will show him that you care!
So what about you, my friends? What will you be crocheting for the fathers of the world this month? Have you started yet? If not, get crackin'! Please leave your thoughts, ideas and questions in the comment section below. Go handmade for Dad!