Book Review: 10 Basic Granny Squares, 30 Bags by Margaret Hubert
By Caissa "Cami" McClinton –
3 Comments
Today we're reviewing the latest publication from CGOA Crochet Hall of Fame Member Margaret Hubert. In the past I've reviewed & given away Margaret's books Customize Your Crochet and 10 Granny Squares 30 Blankets. As it turns out, you can do a lot with a granny square! In this newly released book, 10 Basic Granny Squares 30 Bags, Ms. Hubert sparks our creativity and encourages us to flaunt our handiwork all over town by carrying one of the thirty bags she has designed for our enjoyment.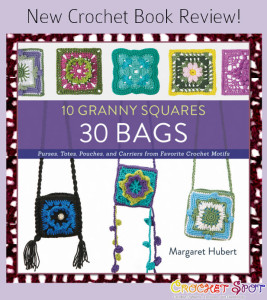 The book is formatted similarly to
10 Granny Squares 30 Blankets
, yet the projects are much more my speed, because I'm completely an accessory queen! I love quick projects that provide instant gratification. Although not every project in this book fits that bill, there is certainly something for everyone.
The book is 128 pages long and includes detailed instructions for thirty unique and eye-catching bags. As with her previous publication, Hubert plays with color, texture, yarn size, joining, and embellishments to explore the versatility of the g-square. Additionally, the sewing enthusiast in you will love choosing the perfect fabric to line your creation and also applying different closures to your creations. If you're not sure how to do that, don't fear! The author provides clear instructions in her Techniques section. This book was created to nurture your creativity!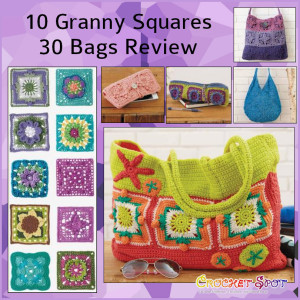 If you read this book, you'll be learning from one of the best. Hubert has been a crochet designer for decades and her expertise shows. The bag shapes are very diverse and each would suit a different need. One of my favorites was Cell Phone Minder, because unlike a lot of crocheted cell phone holders I've seen, this one creates a folio style and uses fabric lining and crocheted pockets. I also loved Market Bag, where she used crochet thread and an interesting arrangement of squares to make rounded tote. Another favorite was Lacy Linen, where she employed color blocking in a harmonious color palette. The bag is enhanced by a fabric lining, button loop and decorative button. Finally, Zippered Case appealed to me because I always organize my life with little bags and pouches and this project looked quick! In each of these cases, I was inspired not only by the picture in the book, but also by imagining how I might change it up to make MY version of the bag.
Now it's your turn to talk! Can you see yourself rocking a personalized granny bag? Which g-square colors would most express your personal style? I have been loving an earthy sunset palette – fuschia, orange, yellow-orange, purple, twilight blue, and chocolate. Heavenly. I want to hear from you! Please leave your thoughts, ideas and questions in the comment section below.