Book Review & Giveaway: 10 Granny Squares 30 Blankets by Margaret Hubert
By Caissa "Cami" McClinton –
8 Comments
I'm really excited about this book because it explores a concept I have been thinking about for a long time. It also encourages creativity in the crocheter. That is a great combination, but we can't expect anything less from legendary crochet designer Margaret Hubert. Today we learn a little more about the new book 10 Granny Squares 30 Blankets by Margaret Hubert and you'll see how you can win a copy!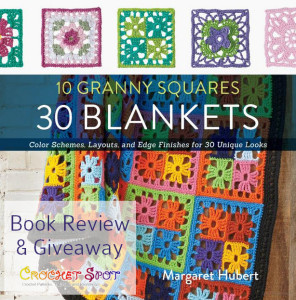 In the 128 pages of this beautiful book, we become familiar with ten different granny square patterns. Each of the patterns are charted and has written directions. We then see how each square can be used in different ways to create three unique blankets. Hubert uses color, texture, yarn size, joining, and different trims to personalize each blanket. The results are stunning.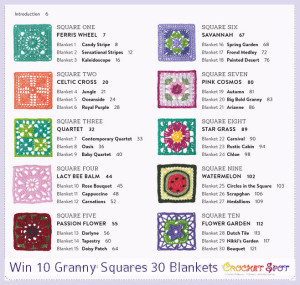 The great thing about this book is that it nurtures creativity and design. I wrote about stepping into crochet design in a previous post. Hubert's diverse choices of texture and color in the blanket samples were fascinating and educational. One of my favorites was Jungle, where she used a variegated yarn with long color changes to do the color work inside the squares and then joined them with a solid color. I also loved Oceanside, where she used a textured thick and thin yarn alongside a standard smooth yarn. Another favorite was Cappuccino, where she took the colors of coffee and cream and created a cozy blanket perfect to wrap around yourself while sipping morning java. Circle in the Square featured an intriguing play with negative space. These sophisticated patterns really do elevate the granny square and will also elevate your skill set.
In order to win your copy, enter our Finish in '15 Contest! Remember that all previous non-winning entries are still active.
So what about you, my friends? Are you excited to crochet up some blankets using granny squares in new ways? Will you be entering (or reentering) our Finish in '15 contest to win your copy of the book? Please leave your thoughts, ideas and questions in the comment section below.