Book Review and Giveaway: Design Your Own Crochet Projects
By Rachel Choi –
84 Comments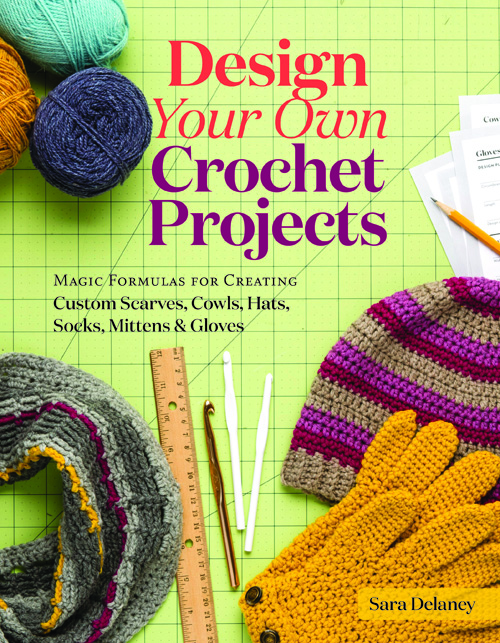 When you think of buying a crochet book, most people are looking for a variety of patterns. Design Your Own Crochet Projects by Sara Delaney has a different approach. While still providing a variety of crochet patterns, it gives you the details on how each pattern is designed and sized. I wish there was a book like this years ago when I started designing my own crochet patterns. It gives you the insight into how the author develops her patterns so that you can extrapolate what you want to make your own.

First Impressions
Math!!! I'll admit, I'm a math geek so I love math, but if you don't it may take you by surprise how much math is involved in designing and sizing patterns. A quick thumb through the book and you'll notice the lovely photos of the projects along with the pages full of calculations. While it may be easy to follow for some, it may look like a foreign language to others.
You can get your own first impression by using the Look Inside feature on Amazon. You'll be able to see the first few pages, and even get to see a few of the full crochet patterns and how they are formatted.
What's Inside?
Like many books, it starts with an introduction. It discusses different fiber types and everything you would need to know about swatching. Although most folks would tend to skip over this section, I would recommend reading through the swatching section since gauge is super important when crocheting wearable items. Swatching is also a big part of design in each of the patterns. If you don't swatch you won't get very far in the book.
After the intro, there are 7 sections: scarves, cowls, hats, fingerless mitts, mittens, gloves, and socks. Each section has 2 patterns, with the exception of the hats and socks, which have 4 patterns. Each pattern is written like a standard crochet pattern, so you can crochet the item just like you would with any other pattern. What makes this book different, and more geared towards teaching you how to design your own pattern, is the section before the pattern that walks you through how the sizing was calculated using the swatch size. Taking the time to actually read through the calculations sections will teach you the sizing aspect of design. It will give you the skill to interchange weights of yarn and adjust the pattern to fit your own gauge. If you are ambitious you can then use the calculations to form your own pattern.
If performing all the math seems too daunting, check out the online crochet calculator page that goes along with the book.
What's Missing?
While the book is great at teaching the math of crochet and giving demonstrations on how to size items, it doesn't teach the visual part of design, how to create your own stitch patterns, or your own unique look to a pattern. To be fair, who can really teach that anyway? You are your own measure of creativity and only experience in crocheting can help you with that.
The book is filled with examples for crocheting accessories, which is a great first step in the crochet design world. Larger items, such as sweaters, are beyond the scope of this book. It also doesn't include blankets, home decor, or toy patterns.
Is this book for me?
Design Your Own Crochet Projects is great for learning to size your own crochet accessories. But if you aren't interested in learning the ins and outs of sizing, you can still crochet the patterns that are included in the book. It won't tell you everything you need to know about pattern designing, but it is a very good start. If you're new to pattern designing and are willing to take the time to learn and do a bit of math, then this book will be an excellent teacher for you!
FREE Giveaway Time!
Here's your chance to win a FREE copy of Design Your Own Crochet Projects. To enter the giveaway…
Leave a comment below stating which section of the book you are most interested in learning about: scarves, cowls, hats, fingerless mitts, mittens, gloves, socks, or other.
Also free free to look inside the book for yourself using the Amazon Look Inside feature where you can view full patterns and the beginning parts of the book.
Please only one comment per person, as multiple comments will be deleted.
A winner will be randomly drawn and announced on November 16, 2017.
Shipping from Storey Publishing is limited to the U.S. and Canada.
Update: This giveaway is now closed. Check out the Giveaway Winner page.