Book Review & Giveaway: Melissa Leapman's Indispensable Stitch Collection for Crocheters
By Caissa "Cami" McClinton –
162 Comments
Melissa Leapman is fiber arts royalty as a prolific and celebrated designer. Known for knitting as well as crochet, Leapman has built a robust career with over 1000 published patterns in print. Her wealth of design experience serves as a foundation for her beautiful, new reference book, Melissa Leapman's Indispensable Stitch Collection for Crocheters. Read on to find out a bit about the book, and to see how you can win a copy!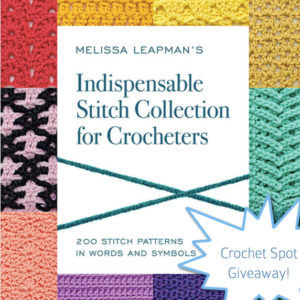 In this 176-page book, we are introduced to a comprehensive collection of crochet stitch patterns divided in to six categories: Simple Solid Patterns, Shell and Fan Stitch Patterns, Openwork and Lace Patterns, Textured Patterns, Colorwork Patterns, and Edgings. There is also a useful resource guide in the back of the book with information about reading symbols, basic stitches, and abbreviations. These features combined with Leapman's introduction with useful tips about how to use the stitch patterns make this not only a useful, but also a fun addition to your crochet library.
I have seen (and I own) a great deal of crochet stitch dictionaries. I can say from experience that this is a very high quality reference to have on hand. There are beautiful color photos of each example, along with crochet symbol charts and written directions. The stitches move from simple to complex, so it's a good learn-as-you-go type of book.
If you've pledged to increase your crochet skills in 2017, then why not let this book be your guide? If you crochet a swatch of each pattern you'll have a huge skill boost and a collection of pretty squares to join!
In order to win your copy, enter by commenting on this post until January 31, 2016. I'll contact the winner via email afterwords.
What about this book sounds best to you? Is there a certain type of crochet stitch you'd like to explore? Please leave your thoughts, ideas and questions in the comment section below.